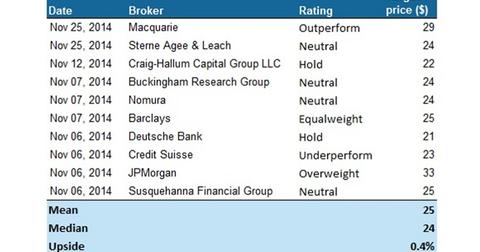 Pinnacle Entertainment's broker outlook and price performance
By Shawn Bolton

Updated
Broker ratings
Pinnacle Entertainment, Inc. (PNK) has a 52-week low of $20.33 and a 52-week high of $27.45. The stock's 50-day moving average is $24.35, and its 200-day moving average is $24.07. The company's market cap stood at $1.4 billion as of December 2, 2014.
The above chart shows that out of the ten brokers or analysts, seven have rated Pinnacle Entertainment's (PNK) stock as neutral or hold, two have rated the stock as overweight or buy, and one broker has rated it as underweight or sell. The mean target price of all these brokers on Pinnacle Entertainment's stock has an upside of only 0.4% to the company's stock price as of November 28, 2014. The stock currently has a consensus rating of hold and a consensus price target of $24.07.
Research analysts at Barclays have downgraded Pinnacle Entertainment (PNK) from an overweight rating to an equal weight rating. Analysts at Credit Suisse reiterated an underperform rating on Pinnacle Entertainment's shares with a revised price target of $23 from $19.
However, JPMorgan has reaffirmed an overweight rating on Pinnacle Entertainment's shares. In a research report dated November 6, 2014, JPMorgan stated, "We reaffirm our Overweight rating and up our year-end 2015 price target to $33 from $27, and base it on the value we see associated with its proposed PropCo/OpCo split (6.0x 2016E EV/EBITDA from OpCo and 14.0x 2016E EV/EBITDA for PropCo, using reasonable assumptions)."
Pinnacle Entertainment's relative price performance
The above chart shows the share price of casino companies, including benchmark index S&P 500 over the last 12 months as of December 1, 2014. It should be noted that Pinnacle Entertainment has recently underperformed relative to its peer companies like Boyd Gaming (BYD) and Isle of Capri Casinos (ISLE) over the last week. As shown in the above chart, over the last one month and six months, Pinnacle Entertainment has underperformed all its peers, including Penn National Gaming (PENN) and benchmark index S&P 500 (SPY).
Also, if we look at the share price performance of Pinnacle Entertainment (PNK), the company has given negative returns in all the time periods shown in the above table.
Exchange-traded funds (or ETFs) such as Consumer Discretionary Select Sector Standard & Poors depositary receipt (or SPDR) fund (XLY) and VanEck Vectors Gaming (BJK) helps investors gain exposure to the leisure industry.