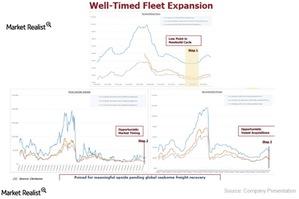 Perfect timing for Star Bulk's fleet acquisition
Star Bulk capitalizes on lower vessel prices
Star Bulk Carriers Corp. (SBLK) has placed its newbuilding orders at one of the lowest points of its newbuilding price cycle. This expansion plan was well-timed across the shipping cycles from both short- and long-term perspectives. The company merged with Ocean Bulk Shipping at an opportune time in July, right after the high price levels of March had weakened. Star Bulk took advantage of even lower vessel prices in its acquisition of Excel Maritime vessels in August. Looking ahead, Star Bulk Carriers expects to explore more consolidation opportunities as vessel prices fall even lower.
Article continues below advertisement
Benefits of acquisitions
The fleet that Star Bulk acquired from Excel Maritime complements Star Bulk's existing fleet with sizes in which it previously had very marginal exposure. This fleet diversity will enable the company to better service its customers' commercial needs and handle all varieties of charters and all types of dry bulk cargoes. Star Bulk will also be able to provide scale to its dry bulk customers since they can charter many similar and sister vessels instead of contracting with multiple owners and experiencing logistics issues.
Fleet composition
In August 2016, when Star Bulk's last newbuildings will be delivered, the average age of the fully delivered Star Bulk fleet, excluding the 25-year-old Panamax vessels, will be about 6.5 years. In terms of deadweight tonnage, more than 60% of the fleet will be Capesize and Newcastlemax vessels with 39 vessels in operation on a fully delivered basis. Newcastlemax vessels are slightly larger than Capesize vessels, which are optimized for carrying iron ore. Star Bulk's Newcastlemax vessels can carry 208,000–209,000 tons of cargo.
By the end of December 2014, Star Bulk will own 68 vessels on the water compared to the current count of 52. The company owned 17 prior to the Ocean Bulk merger. By the fourth quarter of 2015, Star Bulk will have taken delivery of the majority of its eco newbuilding orders and will own and operate 96 vessels, followed by a full fleet of 103 ships by August 2016.
Comparatively, the fleet size of industry (SEA) peers such as Diana Shipping Inc. (DSX), Knightsbridge Shipping Ltd (VLCCF), Navios Maritime Holdings Inc. (NM), and Eagle Bulk Shipping Inc. (EGLE) stands at 36, 4, 53, and 45, respectively, as of the latest reported quarter.