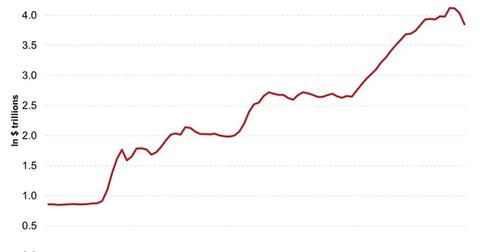 "Patience" is important in the Fed's policy moves
By David Ashworth

Dec. 19 2014, Updated 10:37 p.m. ET
A patient Fed
In The FOMC's (Federal Open Market Committee) press statement, Fed Chair Janet Yellen, acknowledged that there was a change in language. However, she was quick to add that "This new language does not represent a change in our policy intentions and is fully consistent with our previous guidance…"
In the statement, the Fed explained that the language may have changed. However, the Fed's attitude towards the federal funds rate hasn't changed.
Article continues below advertisement
Why the language changed
In its statement in October, the Fed indicated that it "likely would be appropriate to maintain the current target range for the federal funds rate for a considerable time following the end of our asset purchase program, especially if projected inflation continues to run below the Committee's 2% longer-run goal."
The Fed explained why the language changed. It said that the bond-buying program ended in October. The economy is making progress towards the Fed's objectives. As a result, the FOMC felt the need to modify its guidance.
The FOMC wanted to move away from indicating its first rate hike. It wanted to refer to its bond-buying program. The program ended. Now, the Fed intends to make references to the changing economic conditions. The conditions will help the Fed make the decision to increase the federal funds rate. Patience is important because the rate increase needs to occur at the right time.
Significance
It's important to note that the FOMC hasn't used the phrase "considerable time" for its guidance this month. It used this phrase twice in the press conference statement. Both times, the phrase referred to past statements.
Only the future will tell whether this language change becomes pivotal to policy change. However, it's significant.
In the next part of this series, we'll look at how equity (SPY)(IVV) and bond markets (TLT)(IEF)(SHY) reacted to this statement.