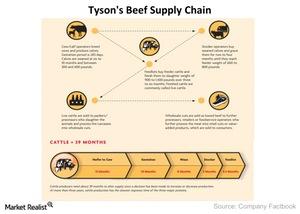 Overview: The Tyson Foods Beef Segment
By Adam Jones

Updated
Tyson Foods Beef segment
In the last part of this series, we learned that the Tyson Foods, Inc. (TSN) Beef segment generated the largest share of company revenues, $16 billion in 2014. The Tyson Foods Beef segment involves live cattle processing and beef carcass fabrication.
Tyson Foods processes live cattle into primal and sub-primal cuts, case-ready beef—that is, beef ready to be sold at retail stores—and fully cooked beef products. This process is known as dressed beef fabrication. "Dressed" means cattle butchered and removed of all parts that are not consumed by people. Tyson also produces by-product hides and meat, which are sold for further processing.
Article continues below advertisement
Production process
In the above chart you can see that the beef production process starts with the cow or calf operators. These operators include ranchers and farmers who oversee the process of breeding the cows to produce a calf. When the calf reaches a weight of between 300 and 600 pounds, it's weaned from its mother's milk and starts on an adult diet. This calf is then sold to the stock operator, where the calf's weight is brought to between 600 and 800 pounds. Then, the calf is sold to feedlot operators, where the calf is fattened to a cow weighing between 900 and 1400 pounds. The cow that reaches this weight is called live cattle and is sold to the slaughterhouse, which processes the carcass. The processed carcass, known as wholesale cuts, is sold for further processing.
Unlike the Chicken business, this segment is not vertically integrated. Live cattle are the major input in the beef business and the company procures its live cattle on the spot market through trained cattle buyers.
Competition
According to Beef USA, Tyson Foods, Inc. (TSN) was number one in beef packing operations in 2013. It was followed by JBS USA Holdings, Cargill Meat Solutions, and National Beef Packing Co.
Tyson is a part of the Consumer Staples Select Sector SPDR Fund (XLP). This ETF also holds Hormel Foods Corp. (HRL), as well as Wal-Mart Stores, Inc. (WMT) and Costco Wholesale Corporation (COST) that sell Tyson products.
Next, we'll look at the Chicken segment.