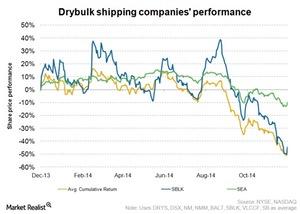 Overview: Star Bulk Carriers' earnings and fleet
A snapshot of Star Bulk Carriers
Star Bulk Carriers Corp. (SBLK), a global shipping company focused on the transportation of dry bulk cargoes, reported its third-quarter earnings on December 2, 2014. This is the first quarterly results report since the Ocean Bulk Shipping merger in July and the agreement for the acquisition of a high-quality second-hand fleet of 34 vessels from Excel Maritime Carriers.
This quarter has significant importance for Star Bulk Carriers, which is building a platform capable of effectively managing more than 100 vessels. Revenue recorded a significant surge of 110.9% during the quarter. Star Bulk Carriers' bottom line indicated profits recovering from the year-ago quarter's loss. We'll discuss the earnings in further detail in our upcoming parts.
Article continues below advertisement
Star Bulk Carriers Corp. (SBLK) dropped 14% in trading to date since its reported earnings. Its peers, including Diana Shipping Inc. (DSX), Knightsbridge Shipping Ltd (VLCCF), Navios Maritime Holdings Inc. (NM), and Eagle Bulk Shipping Inc. (EGLE) recorded 8.4%, 14.8%, 16.5%, and 0.7% decreases, respectively, during the same period. The Guggenheim Shipping ETF (SEA) recorded a 2.2% dip in the same period.
Star Bulk Carriers' fleet
Star Bulk Carriers' vessels transport major bulks, which include iron ore, coal, and grain. The vessels also transport minor bulks, including bauxite, fertilizers, and steel products. On a fully delivered basis, Star Bulk Carriers has a fleet of 103 vessels with an aggregate capacity of 11.9 million deadweight tonnes (or dwt). The vessels include primarily Capesize but also include Kamsarmax, Panamax, Post Panamax, Newcastlemax, Ultramax, Supramax, and Handymax with carrying capacities from 38,800 dwt to 209,000 dwt.
The company's fleet currently includes 52 operating vessels, 16 second-hand vessels to be delivered by December 31, 2014, and 35 newbuilding vessels currently under construction at shipyards in Japan and China. All of Star Bulk Carriers' newbuilding vessels are expected to be delivered during 2015 and 2016.