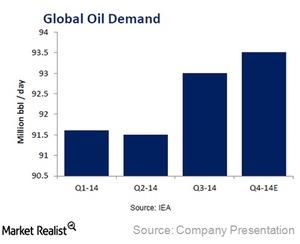 Outlook for global growth and tanker fleet for Teekay Tankers
Going forward
Looking ahead to 2015, Teekay Tankers Ltd. (TNK) forecasts 2.0% net global tanker fleet growth with major contribution from the product tanker sector. There is a negative fleet growth estimate for the Suezmax and uncoated Aframax sectors.
This outlook is likely to have an impact on Frontline Ltd. (FRO), Nordic American Tanker Ltd (NAT), DHT Holdings Inc (DHT), and Navios Maritime Acquisition Corporation (NNA). The Guggenheim Shipping exchange-traded fund (or ETF) (SEA) would also benefit.
Article continues below advertisement
Global growth
In October 2014, the International Monetary Fund (or IMF) lowered its outlook for global economic growth to 3.3%i n 2014, from 3.7% estimated in its earlier forecast. The outlook for 2015 is also reduced to 3.8% from 4.0%.
Based on an average of forecasts from the International Energy Agency, the Energy Information Administration, and the Organization of the Petroleum Exporting Countries (or OPEC), global oil demand is pegged at 0.9 million barrels per day (or bpd) in 2014 and 1.2 million bpd in 2015. This compares to previous forecast growth of 1.2 million bpd and 1.4 million bpd, respectively.
Global tanker fleet
Teekay Tankers' global tanker fleet grew by 4.9 million deadweight tonnes (or DWT), or 1% in the first nine months of 2014. The product tanker sector contributed the majority of the fleet growth, while the crude tanker fleet grew by 0.3%. The Global Very Large Crude Carrier (VLCC) fleet has grown by a net seven vessels, or 1.1%, in the first nine months of the year. The Suezmax and uncoated Aframax fleets have reduced in size by two vessels, or 0.4 %, and 13 vessels, or 2.0%, respectively.