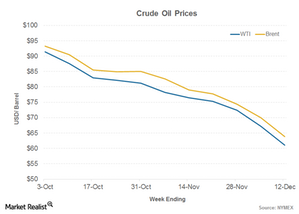 OPEC is insecure about losing market share
By Mike Sonnenberg

Dec. 18 2014, Updated 5:19 p.m. ET
Shale oil and oversupply
New shale discoveries raised US oil production to 8.60 barrels per day, or bpd, in 2014—from 5.65 bpd in 2011. As a result, US crude oil imports fell from over 8 million bpd in 2011 to 5.2 million bpd in September 2014.
OPEC (Organization of the Petroleum Exporting Countries) is insecure about losing market share. OPEC's share in global production was 38% in 2008. Currently, OPEC's share is 35%. OPEC's production increased due to higher production by some of its member countries. In contrast, the global economic recovery has been modest. This limited demand.
Article continues below advertisement
The fall
Brent'a price decreased 45% to ~$60 per barrel—compared to ~$109 per barrel at the beginning of the year. The US crude variant—WTI (West Texas Intermediate)—decreased 44% to $56 per barrel. The United States Oil Fund (USO) decreased 38% since the beginning of the year. ExxonMobil (XOM) lost 14%. Chevron (CVX) lost 19%. Anadarko Petroleum (APC) lost 9% during the same period.
In contrast, the SPDR S&P 500 ETF (SPY) increased 8% during the same period.
Quest for market share
Despite a steep fall in crude oil prices, OPEC decided to maintain production levels in its meeting on November 27. You can learn more about the fall in crude oil prices in Why the bottom fell out of crude oil.
OPEC members, particularly Saudi Arabia, don't want to lose market share or relevance in the energy markets. Saudi Arabia can afford to live with low oil prices for a while. If low oil prices persist, it could cause trouble for weaker OPEC members—like Iran and Venezuela. They could have problems balancing their budgets.
Also, low oil prices could impact the profitability of new shale projects in the US. The new projects might not be profitable. This will help OPEC stay relevant. Russia is already being impacted by low oil prices. Russia gets a large portion of export revenues from selling oil.
What does our whole analysis point to? We'll discuss the meaning of our analysis in the next part of this series.