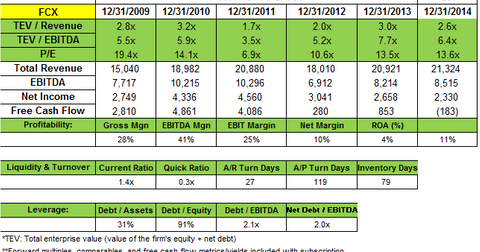 Omega Advisors eliminates position in Freeport-McMoRan
By Samantha Nielson

Updated
Omega Advisors and Freeport-McMoRan
Omega Advisors exited a position in Freeport-McMoRan (FCX) during the third quarter. The position accounted for 1.17% of the fund's portfolio for the second quarter that ended in June. The position was initiated in 3Q13.
Article continues below advertisement
Overview of Freeport-McMoRan
Freeport-McMoRan, or FCX, the world's largest publicly traded copper producer, completed its $19 billion acquisitions of Plains Exploration & Production Company (PXP) and McMoRan Exploration Company (MMR) in 2Q13. These acquisitions added an attractive oil and gas portfolio to its global mining business.
These are the company's main assets:
The Grasberg minerals district in Indonesia – one of the world's largest copper and gold deposits
Significant mining operations in North and South America
The Tenke Fungurume minerals district in the Democratic Republic of Congo
Arizona-based FCX also has significant oil and natural gas assets in the US, including reserves in the deep waters of the Gulf of Mexico, onshore and offshore California, in the Haynesville Shale play in Louisiana, and in the Madden area in central Wyoming. It has a position in the emerging Inboard Lower Tertiary/Cretaceous natural gas trend in the shallow waters of the Gulf of Mexico and onshore in South Louisiana.
Asset sales to reduce debt
In November, FCX completed the sale of its 80% ownership interests in the Candelaria and Ojos del Salado copper mines to Lundin Mining for $1.8 billion.
In June, FCX sold its Eagle Ford Shale assets in Texas to a subsidiary of Encana for $3.1 billion to reduce debt. Some of the proceeds from the sale were used to acquire additional interests in deep-water Gulf of Mexico totaling $1.4 billion.
Article continues below advertisement
Resumes export of copper concentrates in Indonesia
In July, FCX said its Indonesian subsidiary, PT Freeport Indonesia, received approval from the Indonesian government to resume exports of copper concentrates. Previously, the company was involved in a seven-month tax dispute with the government that had restricted its exports.
Results impacted by lower copper, gold, and oil prices
FCX posted a profit of $552 million, or $0.53 per share, for 3Q14, compared to $821 million, or $0.79 per share, for 3Q13. It posted revenue of $5.7 billion, down 7.6%. It said its results "reflect lower oil volumes and price realizations for copper, gold and oil."
On declining gold prices FCX said, "an improving economic outlook and positive equity performance contributed to lower demand for gold in 2013 and the first nine months of 2014, resulting in generally lower prices." It added, "oil prices have been under pressure from global oversupply primarily attributable to U.S. shale production and increased Libyan output, coupled with weak economic data in Europe and slowing Chinese demand."
Article continues below advertisement
Bullish on long-term fundamentals for copper
In its 10Q filing, the company said, "during the first nine months of 2014, copper prices declined because of concerns about slowing growth rates in China and an outlook for higher near-term supplies. However, underlying long-term fundamentals of the copper business remain positive, supported by the significant role of copper in the global economy and a challenging long-term supply environment."
It added, "Future copper prices are expected to be volatile and are likely to be influenced by demand from China and emerging markets, as well as economic activity in the U.S. and other industrialized countries, the timing of the development of new supplies of copper and production levels of mines and copper smelters."
Omega's 3Q14 positions
The fund added new positions in AerCap Holdings N.V. (AER), Nordic American Offshore (NAO), and Melco Crown Entertainment (MPEL). It exited its positions in Qualcomm (QCOM), Ocwen Financial Corp. (OCN), Freeport-McMoRan (FCX), and Boston Scientific Corp. (BSX). Notable position increases during the third quarter were QEP Resources (QEP) and United Continental Holdings (UAL).
The next part of this series will review Omega's exit from a position in Boston Scientific Corp.