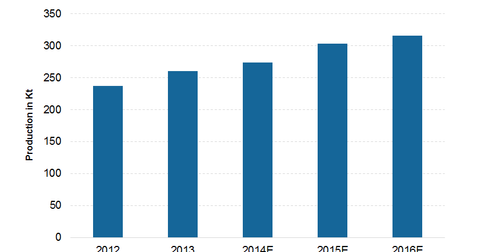 Nickel plays an important role in the future of Vale SA
By Anuradha Garg

Updated
Nickel operations
Vale SA (VALE) is the world's second-largest producer of nickel after MMC Norilsk Nickel OJSC (NILSY). Vale's nickel assets are concentrated in Canada, with mines in Sudbury, Ontario, Thomson, Manitoba, and Voisey's Bay, Newfoundland and Labrador. The company also has mining stakes in New Caledonia, Indonesia, and Brazil as well as refining plants in China, South Korea, Japan, and Taiwan.
It also offers sales and technical support to its customers through global support offices in Switzerland, the US, Japan, Shanghai, and Taiwan.
Article continues below advertisement
Contributions from this division, along with those from other base metals, are going to be increasingly important going forward. Analysts are watching Vale's base metals division to see if it can offset the falling revenue from iron ore. The production profile is well supported by ramp-ups and productivity gains.
Customers
Vale SA's nickel customers are broadly distributed on a global basis. In 2014, 44% of its nickel sales were to customers in Asia, 28% to North America, 27% to Europe, and 1 % to other markets. The company has short-term fixed-volume contracts with customers for the majority of its expected annual nickel sales.
Nickel is an exchange-traded metal listed on the London Metal Exchange, or LME. Most nickel products are priced according to a discount or premium to the LME price, depending primarily on the nickel product's physical and technical characteristics.
Vale SA produces what is known as "primary" nickel, meaning nickel produced principally from nickel ores. This, in contrast with "secondary" nickel, which is recovered from recycled nickel-containing material.
Other nickel producers
Vale's key competitive strengths include its long-life mines and low-cash costs of production relative to other nickel producers. It also benefits from its sophisticated exploration and processing technologies and from a diversified portfolio of products.
Vale SA, along with its peers including Norilsk Nickel, Jinchuan Nonferrous Metals Corporation, Glencore Xstrata (XSRAY) and BHP Billiton Ltd. (BHP) account for ~47% of global refined primary nickel production.
Investors can also consider the SPDR S&P Metals and Mining ETF (XME) to get exposure to this sector.