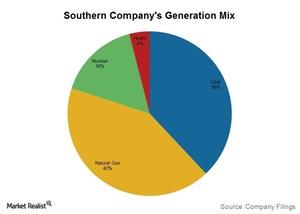 Natural gas pumps up Southern Company's power generation
Southern Company's generation mix
As of December 30, 2013, most of Southern Company's (SO) 46,000 megawatts (or MW) consists of coal, natural gas, and nuclear power plants. These constitute nearly 96% of Southern Company's total generation capacity. In addition, hydroelectricity constitutes 4% of Southern Company's capacity.
Article continues below advertisement
High natural gas-fired generation capacity favors Southern Company
Natural gas forms the major source of fuel for Southern Company (SO) and constitutes 42% of its installed capacity. This benefits Southern Company to generate electricity at a lower cost owing to the cheap availability of natural gas following the shale boom in recent years.
The proportion of natural gas-fired power plants in its subsidiary Southern Power is even higher, at 95% of its total capacity of 9,037MW. This subsidiary deals with electricity sales in the unregulated segment, and the lower cost of production helps Southern Company lower its risks in the unregulated markets.
Southern Company has the second-highest natural gas-fired power generation capacity in the United States after NRG Energy (NRG). Entergy Corporation (ETR) and NextEra Energy (NEE) also own significant natural gas power generation capacities. The companies are part of the Utilities Select Sector Standard & Poors depositary receipt (or SPDR) (XLU).
Procurement of fuel and contract
Southern Company Services (or SCS) procures fossil fuels on behalf of Southern Company. Fossil fuels form the largest part of generation capacity. Southern Company Services procures natural gas and coal from suppliers through a bidding process.
Natural gas is procured on spot and short-term contracts, while coal is procured from suppliers on long-term contracts.