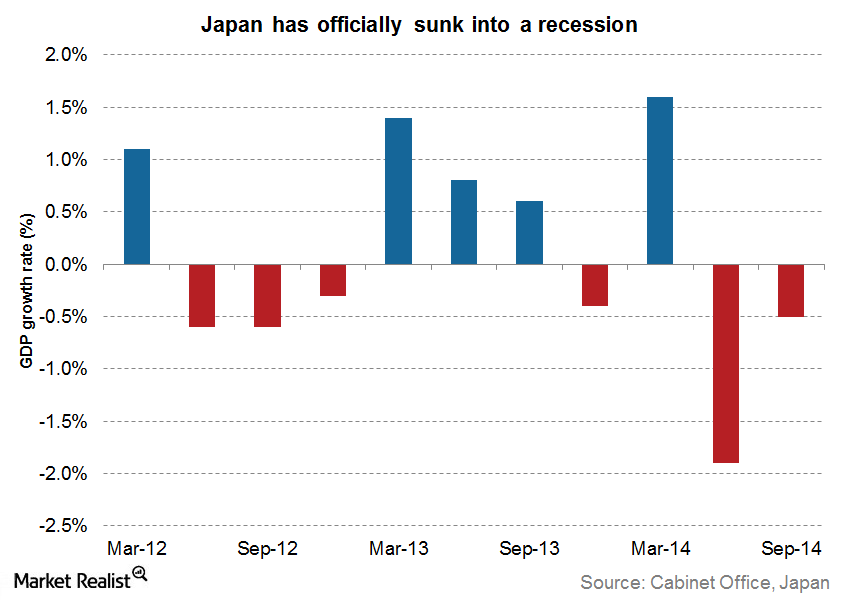 The Falling Demand For Oil, Impact On Prices
The reasons behind the decline: Fall in oil demand
The drop in crude oil prices can be attributed to three simple reasons— demand, supply and the dollar. On the demand side, a downgrade in the IMF's global growth forecast for 2015 in early October coincided with continued Eurozone weakness, punctuated by very weak German manufacturing data for August and an un-anchoring of long-term inflation expectations. Furthermore, the latest economic data from Japan showed an economy struggling to cope with the consumption tax implemented in April, with a large drop in GDP and consumer spending. And over the summer, China oil consumption disappointed, even above that expected along with its declining growth.
Article continues below advertisement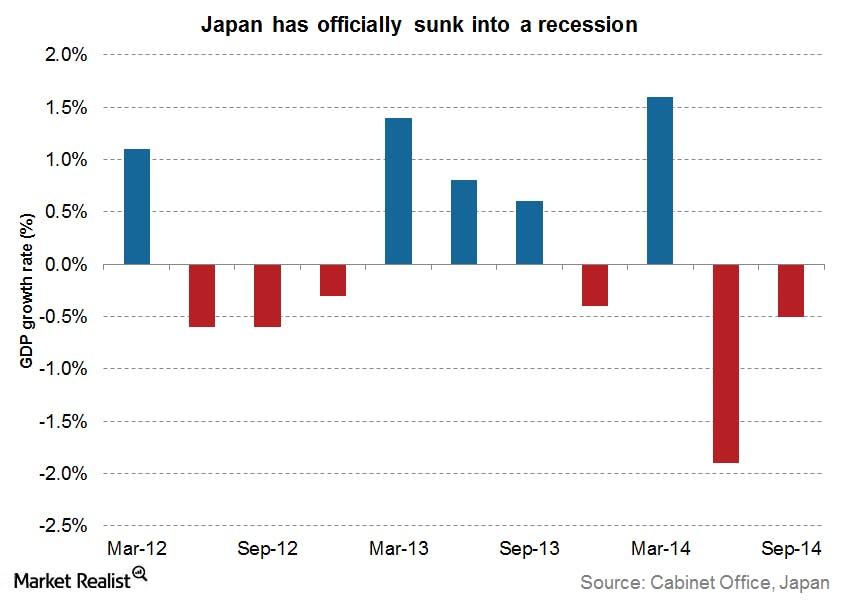 Market Realist – One of the major reasons for the decline in oil prices is the fall in demand for oil. A growth slowdown has halted oil demand in its tracks. The Eurozone (EZU) has been grappling with a slowdown for some time now. Japan (EWJ) is still reeling under the effects of the consumption tax in April. The Japanese economy is officially in a recession with two back-to-back quarters of negative GDP (gross domestic product) growth, as you can see in the above graph.
Article continues below advertisement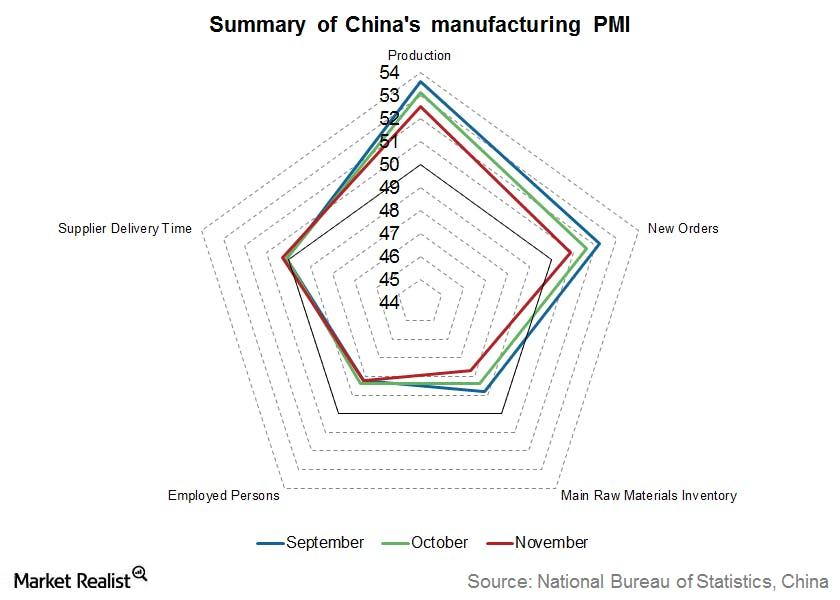 Market Realist – China (FXI), one of the largest consumers of oil in the world, is plagued by its own problems. China is suffering from a slowdown in its manufacturing sector. The official purchasing managers' index, or PMI, for the Chinese manufacturing sector declined to a six-month low of 50.3 in November, as you can see in the graph above. And prospects don't seem to have improved, with the flash PMI estimate for December coming in at 49.5. This marks the first contraction in China's factory output in the past seven months. The economic backdrop is dampening the demand for oil, keeping it low.
Article continues below advertisement
According to the International Energy Agency, or IEA, "deep structural changes" are at play in the energy (XLE) market. With China in a less oil-intensive stage of development, the demand for oil could stay low for a while. Even if global growth steps up, oil prices may continue to stay low because economic development isn't likely to elevate oil prices in the absence of wage gains.
Greater energy efficiency in Europe and the US is another reason for the fall in oil demand.
Decline in demand forecast by various agencies
IEA has slashed its oil demand growth forecast by 230,000 to 0.9 million barrels per day in its December Oil Market Report, citing low output from former Soviet nations.
OPEC has also cut its estimates for global OPEC crude demand in 2015 to a decade-low of 28.92 million barrels per day,or bpd. This marks a decline of 280,000 bpd from its previous estimate, and 1 million bpd less than its current production levels.
Article continues below advertisement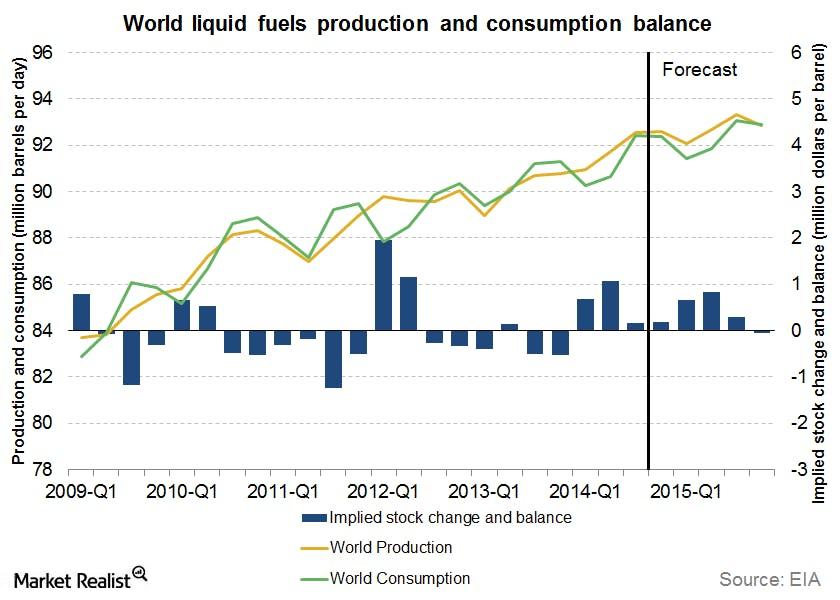 US Energy Information Administration, or EIA, has reduced its 2015 global demand forecast for crude oil by 200,000 bpd to an average of 92.3 million bpd. The graph above shows the global consumption and demand for liquid fuels as estimated by EIA. Forecasts show that the supply will continue to be more than demand in 2015.
Read on to the next part of the series to learn how the increasing supply of oil is putting downward pressure on its prices.