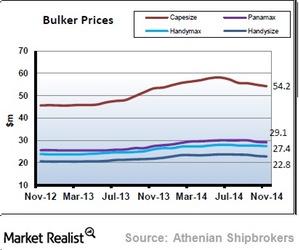 Must-know: Newbuild dry bulk prices dip
By Katie Dale

Updated
Newbuild vessel prices
An indicator to gauge the fundamental prospects of bulk vessels, ship prices fall into two categories: newbuild vessel prices and secondhand vessel prices. While newbuilds are a clear representation of future rates due to the higher construction period, secondhand vessels help to analyze shorter term fundamentals.
Article continues below advertisement
Stagnant newbuild prices
For bulk carriers, Capesize vessel prices stood at $54.2 million in November as compared to $54.8 million in October. In January 2013, Kamsarmax and Ultramax vessel prices recorded $29.1 million and $27.4 million, respectively, compared to $29.3 million and $27.6 million in the previous month.
Total dry bulk fleet grew to 654 million DWT (or deadweight tonnage) from 604 million DWT, with capsize vessels recording 12.8% growth and Panamax vessels recording 8.9%. Handymax/Supramax vessels grew 8.2%.
November newbuilding activity
Greek broker Intermodal said, "Despite the fact that newbuilding prices currently offer significant discounts compared to the year average, ordering interest remains extremely soft, with those owners who are ready to invest, showing a clear preference to secondhand tonnage over newbuildings."
The broker further added that in the first quarter of 2015, activity will follow the same sluggish pace, as analysts don't expect any of the yards' marketing efforts to have any significant impact on ordering interest at this stage.
A slowdown in newbuilding activity may have an impact on the Guggenheim Shipping ETF (SEA) and the performance of dry bulk shipping companies like DryShips Inc. (DRYS), Diana Shipping Inc. (DSX), Navios Maritime Partners LP (NMM), Navios Maritime Holdings Inc. (NM), and Safe Bulkers Inc. (SB).