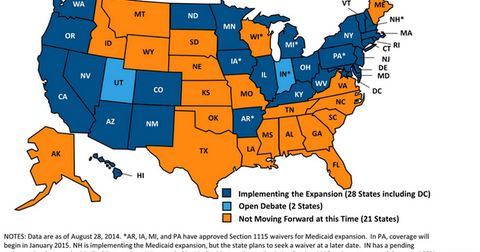 Why Medicaid expansion leads to better hospital performance
By Margaret Patrick

Updated
Affordable Care Act
The Patient Protection and Affordable Care Act (or ACA) has changed the social, economic, and legal environment of the healthcare industry (XLV). These structural changes have also been a major factor affecting healthcare spending.
Article continues below advertisement
Medicaid expansion
According to a survey by the Urban Institute, about 10.6 million people received health insurance between September 2013 and September 2014. This has reduced the nationwide uninsured rate from 17.7% to 12.4%. Medicaid expansion has been one of the major reasons for the decline in the uninsured rate. The above map shows the states in the US that have adopted Medicaid expansion.
According to the ACA, Medicaid expansion programs involve states changing the eligibility limits of Medicaid coverage to include population up to 138% of the federal poverty line. As the Supreme Court has made the program, a total of 28 states have currently adopted the expansion program. According to a report by the PricewaterhouseCoopers' Health Research Institute, hospitals in states that adopted Medicaid expansion have experienced better performance than the remaining states in the US.
Improved performance
For-profit hospital operators such as HCA Holdings (HCA), Community Health Systems (CYH), LifePoint Hospitals (LPNT), and Universal Health Services (UHS) recorded higher-than-expected profits in the second and the third quarters of 2014. Medicaid expansion substantially reduced the bad debt expense or the uncompensated care costs of hospital companies and boosted their profits. Tenet Healthcare reported a reduction of $78 million in bad debt expenses in the second quarter of 2014. Community Health Systems also attributed an extra $40 million to $45 million earnings to the increase in the insured population.
The PricewaterhouseCoopers' Health Research Institute also reported a decline in uninsured admissions and increased Medicaid admissions in expansion states for Community Health Systems, HCA holdings, and Tenet Healthcare.