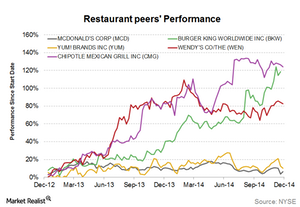 Shares up for McDonald's stock on rumors of Ackman's interest
McDonald's sees rumors of fund's activist stake
Share for McDonald's (MCD) popped last week on rumors that activist investor William Ackman, CEO of Pershing Square Capital Management, has acquired a stake in the fast-food joint. The stock rose the highest since March. While Ackman refused to comment on the speculation, reports noted that the activist investor will seek to unlock value in the company. The reports added that Ackman could pressure McDonald's to spin off its real estate assets into an REIT.
The rumors surfaced after Ackman said in a Bloomberg Television interview, "If McDonald's were run like Burger King (BKW), the stock would go up a lot." Pershing Square is the second-largest investor in Burger King Worldwide Inc.
Article continues below advertisement
McDonald's has been in the news recently due to sliding sales, especially in its US market. In a report on the Market Realist website titled McDonald's Needs A Big Overhaul, it was noted that the company's restaurant peers such as Burger King Worldwide, Inc. (BKW), the Wendy's Company (WEN), and Yum! Brands, Inc. (YUM) have performed well. Other peers include Popeyes Louisiana Kitchen, Inc. (PLKI), Chipotle Mexican Grill, Inc. (CMG), and Panera Bread Co. (PNRA).
Ackman's history with McDonald's
Ackman, whose fund owned a stake in McDonald's between 2005 and 2007, urged McDonald's to restructure itself. In 2005, Ackman called for an initial public offering of 65% of the company's 8,000 wholly owned outlets known as McDonald's Operating Co. or McOpCo. In addition, he wanted the company to issue $14.7 billion in new financing secured against its real estate. The IPO (initial public offering) and debt financing proceeds were to be used to refinance debt and share buybacks.
According to reports, the earlier proposal was rebuffed by McDonald's as an "exercise in financial engineering." Ackman's second proposal urged the company to spin off 20% of McOpco and refranchise 1,000 of its restaurants in mature markets. However, McDonald's announced some changes, including a multibillion-dollar share repurchase that seemed to satisfy Ackman. McDonald's stock almost doubled during the time Ackman remained invested in the company.
While McDonald's has recently recognized that a turnaround is needed and has listed some initiatives to improve its same-store sales, many believe that an REIT spinoff could be a growth driver for McDonald's stock. In the next part of this series, we'll further detail the idea of an REIT spinoff.