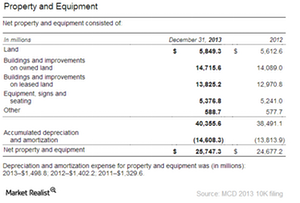 Speculation that Ackman is urging a McDonald's REIT spinoff
Sales are slumping for McDonald's
As discussed previously, shares in McDonald's (MCD) gained slightly last week on rumors that activist investor William Ackman, CEO of Pershing Square Capital Management, has acquired a stake in the fast-food joint. According to speculation, Ackman will urge the company to spin off its real estate assets into an REIT. McDonald's sales have been weak, especially in the US market. Management has pointed to changing customer preferences and high competition as some factors that have led to the company's underperformance.
Article continues below advertisement
A previous report on the Market Realist website noted that the fast-food giant performed poorly in 2014 compared to some of its rivals such as Popeyes Louisiana Kitchen, Inc. (PLKI), Burger King Worldwide, Inc. (BKW), the Wendy's Company (WEN), and Yum! Brands, Inc. (YUM). Pershing Square said it gained from its investment in Burger King Worldwide, a peer of McDonald's. The fund said in a recent letter that Burger King "has dramatically improved its operations, reduced its capital intensity, significantly grown its number of restaurants, and put in place an improved capital structure." Moreover, Burger King's acquisition of Tim Hortons "will create significant long-term value for Burger King shareholders."
Is McDonad's an REIT stock?
About 81% of McDonald's restaurants are franchised, and only 19% are company-owned. Under the franchise model, McDonald's earns revenues from rents and royalties based on the percentage of sales and initial fees from new restaurants. For 3Q14, revenue from franchised restaurants accounted for 34% of McDonald's total revenue.
As of 2013, the company owned around 45% of the land and 70% of the buildings for its system of restaurants. We noted in an investor overview earlier this year that McDonald's had $40 billion in property, plant, and equipment on the depreciation and amortization balance sheet. This was 40% of its market capitalization. An REIT consists of a pool of real estate assets publicly traded on the stock exchange. REITs must distribute 90% of their income to its shareholders and aren't subject to income tax at the corporate level. This allows them to pay higher-than-average dividends, making them attractive to income-seeking investors.
A McDonald's REIT would mean transferring the ownership of the real estate McDonald's owns to a third party. The company's management previously pushed back a similar suggestion on the grounds that restructuring the ownership of its properties would be costly and complicated. The company also believed the company's assets may not even qualify as REITs.
Analysts believe a McDonald's REIT separation could be complex since McDonald's would have to comply with laws that would force it to give up control of the spun off entity. Even if a McDonald's REIT spinoff is not in the cards, the presence of an activist investor who might push for a restructuring could be the catalyst McDonald's needs. Recent 13F filings noted that JANA Partners, Citadel Advisors, and Eminence Capital are among the top ten hedge fund holders of McDonald's stock.
You can track updates on McDonald's and its peers under the Market Realist Restaurants page.