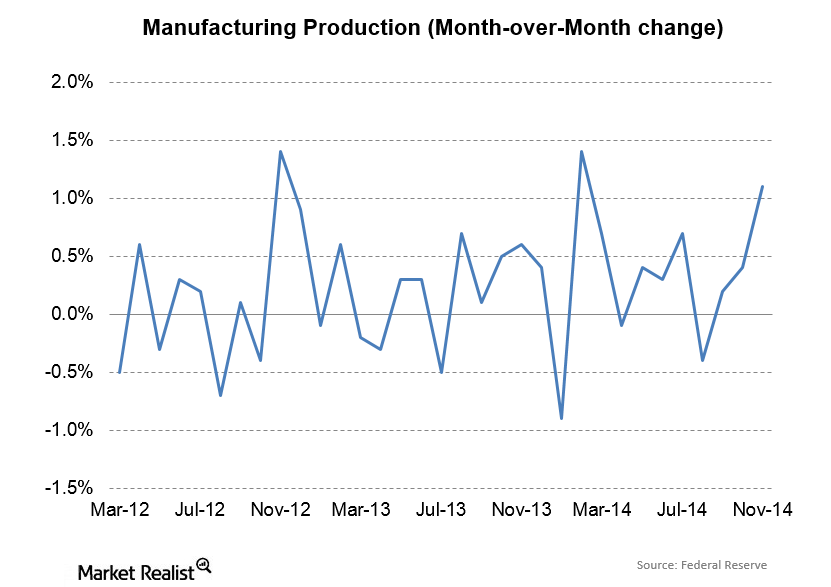 Manufacturing Production Increased In November
An increase in manufacturing production 
Manufacturing production numbers are released monthly by the Federal Reserve. The numbers are contained in the Industrial Production and Capacity Utilization statistical release.
The report breaks down manufacturing production into durable goods and non-durable goods. The US economy is experiencing a bit of a manufacturing renaissance because cheap energy costs have offset the cheap labor arbitrage that contributed to offshoring. Also, manufacturers are realizing that extended supply chains are extremely vulnerable.
Article continues below advertisement
Manufacturing jobs are extremely important to the US economy. Most of the recent job growth has come from part-time, low-paying, service-sector jobs—especially restaurant and retail jobs. These jobs certainly are better than nothing, but they aren't the types of jobs you want to see if you want longer-term prosperity.
Highlights of the report
Manufacturing output increased 1.1% in November. This was a big improvement from October's upward-revised reading of 0.4%. Durable goods' production increased 1%. Auto-related manufacturing increased as well. Business equipment increased 1.2%. This could be an indication of the long-awaited capital expenditure cycle.
Implications for homebuilders
Overall, November's report shows that the manufacturing sector continues to improve. However, we're a long way from a strong manufacturing sector like the one we had in the 1990s—let alone from the glory days of US manufacturing from the 1950s to the 1970s. The story for the US economy going forward should be the impact of cheap energy on the manufacturing sector.
As manufacturing employment increases, it will benefit homebuilders like Lennar Corporation (LEN), D.R. Horton, Inc. (DHI), Toll Brothers Inc. (TOL), and PulteGroup, Inc. (PHM). It will increase the demand for starter homes—the sweet spot for blue-collar workers. The first-time homebuyer struggled lately between increasing interest rates, student loan debt, and rising home prices.
However, there's a tremendous amount of pent-up demand. Household formation numbers have been extremely low since the Great Recession started. Just the unwinding of that phenomenon alone will drive homebuilder earnings for quite some time.
Another way to invest in the sector is through the SPDR S&P Homebuilder ETF (XHB).