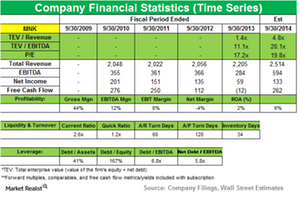 Magnetar reduces stakes in Mallinckrodt Plc
By Patricia Garner

Dec. 17 2014, Updated 8:13 a.m. ET
Magnetar Capital and Mallinckrodt Plc
Magnetar Capital added new positions in Alibaba Group (BABA), TransCanada Corp. (TRP), and Encana Corp. (ECA). The fund's top exits were Covidien Plc (COV), Lamar Advertising (LAMR), and Yahoo (YHOO). The fund added to its stakes in Shire Plc (SHPG), Exterran Holdings (EXH), and Teekay Corp. (TK). Its top stake decreases were in Williams Companies (WMB), Mallinckrodt Plc (MNK), and American Airlines (AAL).
Magnetar reduced its position in MNK in the third quarter. The position accounts for 1.80% of the fund's total portfolio in the third quarter.
Article continues below advertisement
About Mallinckrodt 
MNK develops, manufactures, markets, and distributes branded and specialty generic pharmaceuticals, API (active pharmaceutical ingredients), and diagnostic imaging agents. MNK conducts business in two segments:
specialty pharmaceuticals
global medical imaging
Questcor acquisition
In August, MNK participated in the pharma industry consolidation by completing its acquisition of Questcor Pharmaceuticals (QCOR). The cash and stock transaction was valued at ~$5.8 billion. According to the release on the deal, QCOR's high-growth H.P. Acthar Gel, or Acthar, is expected to complement MNK's specialty pharmaceutical brand portfolio. MNK's portfolio includes Exalgo and Xartemis XR.
For 2013, QCOR reported a 57% net sales growth to $799 million and a 61% adjusted net income growth to $337 million.
Article continues below advertisement
MNK shares decrease
Recently, MNK shares decreased after the FDA (US Food and Drug Administration) reclassified the company's generic drug for ADHD (attention deficit hyperactivity disorder). The FDA said the drug may not be "therapeutically equivalent to the category reference drug Concerta." Concerta is made by Johnson & Johnson's Janssen Pharmaceuticals, Inc.
MNK responded, "We believe that the FDA's actions are not supported by sound scientific evidence and not consistent with the best interests of patients." The company also asserted its confidence in the safety of the ADHD drug.
Strong top-line and bottom-line growth
Net sales for 4Q14 increased by 44.8%. The increase was driven by the inclusion and performance of the Acthar (repository corticotropin) injection and OFIRMEV (acetaminophen) injection—acquired in August 2014 and March 2014, respectively. The increase was also driven by MNK's continued strength in its base Specialty Controlled Substance Generics portfolio.
Gross profit was $400.6 million for 4Q14—compared to $252.1 million in the same period last year. The increase was driven by the ongoing shift to high-margin specialty pharmaceuticals. The significant growth was a result of the additions and performance of Acthar and OFIRMEV. It was also the result of continuing strength in the base Specialty Controlled Substance Generics portfolio.