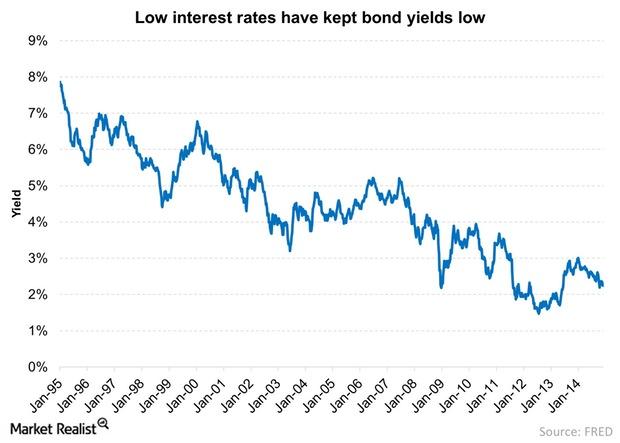 Low Interest Rates Have Kept Bond Yields Low
By Russ Koesterich, CFA

Dec. 4 2020, Updated 10:52 a.m. ET
The bottom line: Despite some real improvements in the labor market, fewer people are working, jobs take longer to find and even when you have a job, raises are few and far between. The persistent weakness in the labor market has at least two investing implications.
Article continues below advertisement
1.  The Fed knows all of this and, given its dual mandate, is likely to continue keep interest rates low
This may not be the last time the Fed surprises with a dovish decision.
Market Realist – Weakness in the labor market means low interest rates.
The graph above shows yields on the ten-year U.S. Treasury (IEF) for the last 20 years. Currently, it's yielding ~2.2%. The Treasury yield has been decreasing over the years.
The Fed introduced QE (quantitative easing) in three rounds. This was an extraordinary program. The Fed pumped money into the system by buying long-dated Treasuries (TLT). This pushed down bond yields. This also brought down interest rates. Low interest rates were meant to boost consumption and investment in the ailing US economy.
The US economy is gaining momentum with stellar growth rates in the last two quarters. It grew by 4.6% in 2Q14. It grew by 3.9% in 3Q14. This helped US equity markets (SPY) reach all-time highs.
Interest rates remained low since the recession. Given the poor condition in the labor markets, as discussed in the last parts of this series, the Fed kept the interest rates low. Low interest rates mean bond (BND)(AGG) yields could stay at their current low levels.
In the next part of this series, we'll discuss the second implication.