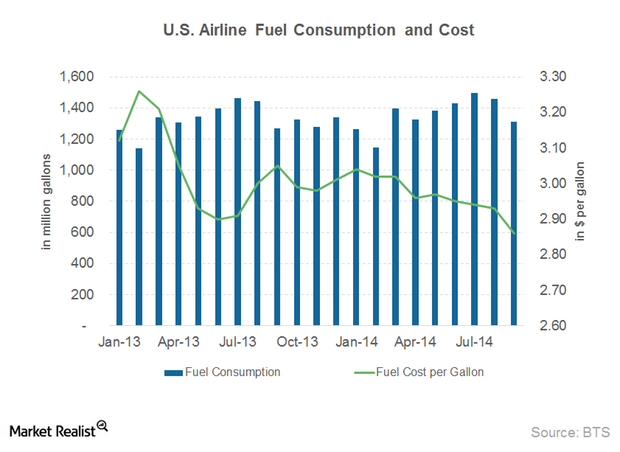 Labor costs offset lower fuel costs as airlines boost hiring
Airline fuel consumption, cost per gallon
According to the Bureau of Transportation Statistics (or BTS), in the first nine months of 2014, fuel consumption in the US airline industry increased year-over-year by ~2%. The cost per gallon declined to $2.86 in September 2014, a year-over-year decrease of ~6.2%. On a year-to-date basis, the cost per gallon declined by 2.5% to $2.96, which was primarily due to falling crude oil prices.
Article continues below advertisement
Higher employment
The second largest cost component for airlines after fuel cost is salaries, wages, and benefits. An increase in employment is positive, as it is a leading indicator of airline industry performance. Airlines hire more employees only when there is an increase in the number of scheduled flights or when capacity expands.
According to the Bureau of Transportation Statistics (or BTS), in September 2014, there was a year-over-year increase in US scheduled passenger airline full-time employment for the tenth consecutive month. Full-time equivalent (or FTE) employees increased by 1.1% to 384,439 in September 2014. The network carriers employed two-thirds of the total employees.
All major US airlines, including Delta (DAL), Alaska (ALK), American Airlines (AAL), Southwest (LUV), and JetBlue (JBLU) reported year-over-year increases in FTE count. Although United (UAL) employed the highest number of FTEs among the network carriers, its FTEs reduced in September.
Labor, profit-sharing
Labor is highly unionized in the US airline industry, leading to comparatively higher wage rates. There has been a recent substantial increase in profit-sharing expenses related to the employees, as the profitability of major US airlines increased. Airlines use this as an incentive to align employee interest with the company's objectives.
Higher profitability of these stocks have pushed up returns from ETFs such as the iShares Transportation Average ETF (IYT) and the SPDR S&P Transportation ETF (XTN). Airline stocks comprise a major portion of the holdings of these ETFs.