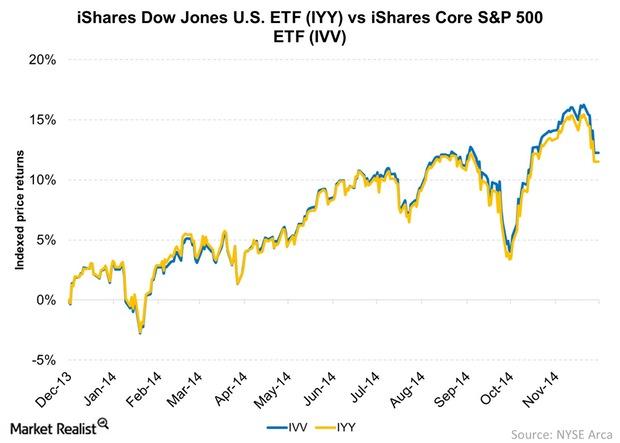 Know More: Bond ETFs Versus Equity ETFs
By Matt Tucker, CFA

Dec. 19 2014, Updated 4:14 p.m. ET
Stock ETFs (Exchange Traded Funds) and bond ETFs actually have quite a few things in common.  Both vehicles typically track an index, both trade on an equity exchange, and both give investors exposure to a diversified portfolio of securities in one trade.  However, because stocks and bonds trade very differently, it stands to reason that stock and bond ETFs would differ as well.  In particular, it's helpful to keep the following things in mind:
Article continues below advertisement
Stocks trade on an exchange where their prices are publicly available throughout the day.  There is generally an active secondary market for most stocks, meaning that buyers can typically finds sellers and sellers can typically find buyers. Everyone in the market can see at what price they can buy or sell a stock at a given point in time.
Market Realist – Equity ETFs track equity indexes closely
The above graph compares the index level of the S&P 500 with the NAV (net asset value) of the iShares Core S&P 500 ETF (IVV) that is designed to track the S&P 500. It's evident that the ETF closely tracks the movement of the index.
In the US, the SEC (The U.S. Securities and Exchange Commission) ensures that there is transparency in the stock markets (SPY). American stock markets are some of the most liquid markets in the world (QWLD). As a result, the equity ETFs that track them tend to be liquid too.
The tracking error is used to measure the volatility (VXX)(XIV) of excess returns as compared to the underlying benchmark index. More on this later.
In the next part of this series, you'll learn the difference between bond ETFs and equity ETFs.