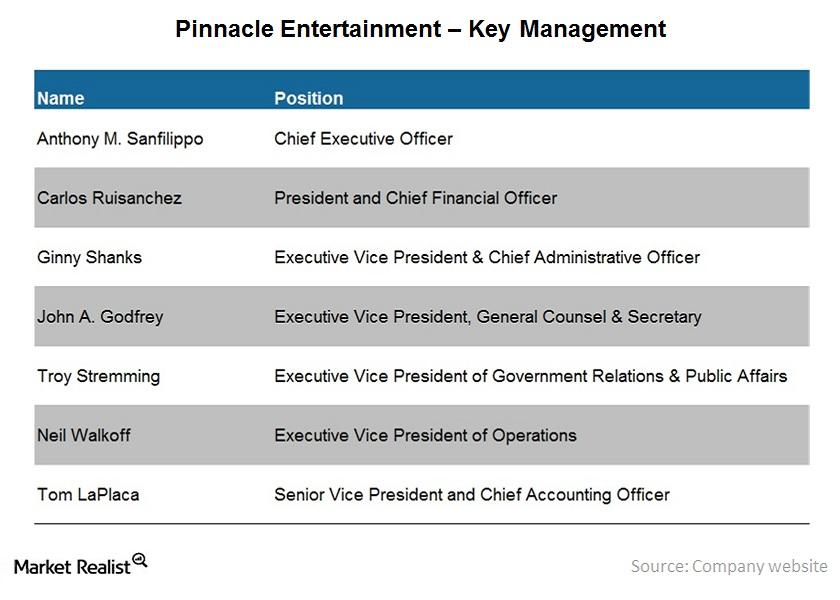 Key management executives at Pinnacle Entertainment
By Shawn Bolton

Nov. 20 2020, Updated 1:00 p.m. ET
Management overview
A strong management team is the backbone of a successful organization. The management at a publicly traded company is responsible for creating shareholder value.
The chart above lists the key management executives at Pinnacle Entertainment (PNK). The company is a part of ETFs like VanEck Vectors Gaming (BJK).
Article continues below advertisement
Pinnacle's CEO
Anthony Sanfilippo is the chief executive officer of PNK. He has more than 30 years of gaming entertainment experience.
Since joining PNK in 2010, Sanfilippo has led the company through significant growth. Under his leadership, PNK acquired Ameristar Casinos in August 2013, doubling the company's size to 15,000 team members and 15 gaming entertainment properties in the US.
Previously, Sanfilippo had served as the president and CEO of Multimedia Games (MGAM). Before that, he had held leadership positions at Harrah's Entertainment, which is now known as Caesars Entertainment (CZR).
Sanfilippo also currently serves on the board of directors at PNK.
President and CFO
Carlos Ruisanchez is the president and chief financial officer of PNK. In this role, Ruisanchez manages the financial and administrative functions of the finance department. He also oversees the company's strategy, development activities, gaming statistics, and business analytics efforts.
PNK hired Ruisanchez in August 2008 as the executive vice president of strategic planning and development. Previously, he had worked at the investment banking firm Bear, Stearns & Co., which he had joined in 1997 as a senior managing director.
To learn about PNK's recent share price performance relative to its peers and the S&P 500 (SPY), read Pinnacle Entertainment's broker outlook and price performance.