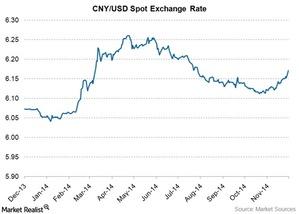 Key benefits of the Shanghai-Hong Kong Stock Connect
By Surbhi Jain

Dec. 10 2014, Updated 8:00 a.m. ET
Key benefits of the Shanghai-Hong Kong Stock Connect
The Shanghai-Hong Kong Stock Connect should benefit foreign investors, Chinese corporations, and the Chinese economy at large.
Article continues below advertisement
Foreign investors
Foreign investors are now able to invest directly in mainland Chinese companies instead of their offshore-listed holding companies. When investing in the offshore entity, distribution of profits and dividends remains open to the risk of any economic or political stress between the holding company and the mainland company it represents.
ETFs are a popular medium for investing in mainland China. ETFs currently invested in the area include the iShares China Large-Cap ETF (FXI), the Deutsche X-trackers Harvest CSI 300 China A-Shares ETF (ASHR), the iShares MSCI China Index Fund (MCHI), the iShares MSCI Hong Kong Index Fund (EWH), and the iShares MSCI All Country Asia ex Japan Index Fund (AAXJ).
Chinese corporations
The linking of the two exchanges allows investors greater access to both exchanges, as well as price stability. More active trading of a stock provides greater liquidity to it. Increasing trading volumes would also keep the stock price stable.
Chinese economy
The government of China expects the linking of the two exchanges to contribute to stabilizing China's currency, the yuan. Since Shanghai-listed A-shares trade only in yuan, in the near term, foreign investors must purchase yuan to invest in Chinese companies' stocks, increasing the demand for and use of the Chinese currency, and thus contributing to its stability.
Just as China opened up its stock market to foreign investments, its economy got another big boost, as its stock market became the second largest in the world.