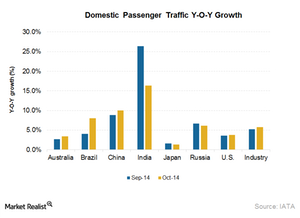 Key Asia-Pacific economies report higher October traffic growth
By Teresa Cederholm

Updated
Traffic growth in Asia-Pacific key economies
The Asia-Pacific region will be the major contributor to the growth in air travel, as two-thirds of the growth in the next 20 years will be to or from countries in that region. Traffic growth in the region was strong in October, with a 5.5% growth recorded in October compared to 4.7% in September. In this article, we will see how key economies in the region have performed during the month.
Key economies with a high growth potential such as China and India lead the growth in the Asia-Pacific region.
Article continues below advertisement
Domestic traffic in China increased at a strong rate of 10% in October, higher than the 8.6% and 6.6% growth recorded in September and August, respectively. The growth in China occurred despite weak trends in industrial production and the slowdown in the economy.
Domestic air traffic growth in India was quite high at 16.3% in October. This was, however, lower than 26.3%, recorded in September.
In Australia, traffic growth improved to 3.4% in October compared to 2.7% in September. With the end of the mining-led boom and concerns over unemployment, the economy will grow at a slower rate.
Traffic growth in Japan was lower in October, as domestic travel increased only by 1.3% compared to 2% in September.
According to the IATA (or the International Air Transport Association), global air transport is expected to more than double, and half of the growth in the region will be led by China. China is expected to overtake the US as the world's largest passenger market by 2030. However, the Asia-Pacific market is affected by the negative impact of currency depreciation and weak cargo revenue of Chinese airlines.
US airlines, including Delta (DAL), American (AAL), JetBlue (JBLU), Southwest (LUV), and JetBlue (JBLU), have recorded higher profitability. Investors can invest in US airlines through ETFs such as the iShares Transportation Average ETF (IYT) and the SPDR S&P Transportation ETF (XTN).