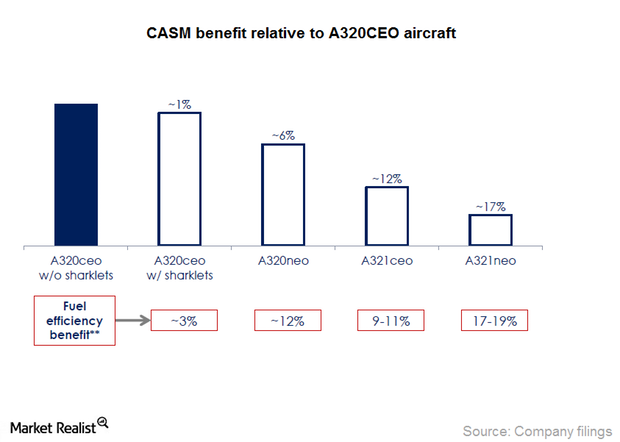 JetBlue's new fuel efficient aircraft will boost cost benefit
By Teresa Cederholm

Dec. 11 2014, Updated 8:00 a.m. ET
Fuel cost per gallon
JetBlue Airways Corporation's (JBLU) fuel cost per gallon in 3Q14 was $3.05, ~3% lower than the $3.14 recorded in 3Q13. JetBlue uses fuel derivatives to hedge its exposure to fluctuating fuel prices. In 3Q14, the company's fuel cost per gallon was higher than it was for most of its peers:
Article continues below advertisement
Hedging on fuel
In 3Q14, JetBlue hedged ~23% of its fuel consumption and managed 7% using fixed forward price agreements (or FFPs). It recorded a loss of $1 million on fuel hedges settled during the quarter. For the fourth quarter, 34% of the projected fuel requirement is managed using FFPs, jet fuel swaps, and caps. JetBlue expects to further lower fuel price per gallon to $2.80 in 4Q14.
Airline companies and transportation exchange-traded funds, or ETFs, such as the SPDR S&P Transportation ETF (XTN) and the iShares Transportation Average ETF (IYT), have all benefited from falling crude oil prices. In October 2014, crude oil prices fell below $90 for the first time since November 2010. 
Fuel efficiency and cost benefit from new aircraft
Fuel consumption per 100 ASMs has increased by 1.1% to 1.44 gallons in 3Q14, up from 1.42 gallons in 3Q13. JetBlue plans to invest in fuel-efficient aircraft such as the A320neo and the A321neo, which is expected to reduce fuel consumption. The A320neo aircraft are expected to increase fuel efficiency by 12%, which will mean a unit cost benefit of 6%. The A321neo aircraft, for its part, should increase fuel efficiency by between 17% and 19%, resulting in a unit cost benefit of ~17%. Further details about the fuel and cost benefits of the A320 ceo with sharklets and the A321 ceo are provided in the chart above.