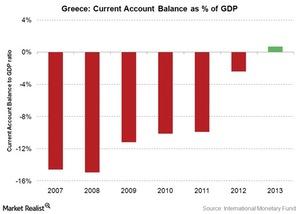 Investors raise doubts on Greece's position in Eurozone
By Surbhi Jain

Updated
Why EU backs current government in Greece
In the past, the opposition left-wing Syriza party leader Alexis Tsipras has criticized Europe's continent-wide austerity measures and its governments' policies. Amid continuing austerity and with one out of four workers still out of a job, many Greeks blame the EU (European Union) for the dismal economic state of the country.
Recently, officials in the European Commission have expressed their view, which favors reelection of the current Antonis Samaras government if the occasion calls for it. The EU's support for the current government could well be a result of the opposition's criticism of its policies.
Article continues below advertisement
Snap elections put Greece's position in Eurozone at stake
Prime Minister Antonis Samaras's decision to hold snap presidential elections, a month and a half prior to when they were due, caused much volatility in the markets. Investors have raised concerns over Greece being able to maintain its position in the Eurozone.
Accordingly, exchange-traded funds like the Vanguard FTSE Europe ETF (VGK), the iShares MSCI EMU Index Fund (EZU), the SPDR DJ EURO STOXX 50 ETF (FEZ), and the iShares S&P Europe 350 Index Fund (IEV) that invest in the Eurozone area would be impacted by any change in Greece's position in the 18-member currency union.
Greece could face higher deficits and borrowing costs
A sudden election would trigger a sudden surge in spending. This would come down heavily on Greece's current deficit, given the economy's already strained fiscal position.
A surge in spending might also trigger the government to take on more debt, to provide funds for the elections. Any additional debt taken on by Greece's government will only go on to impact the country's rating and subsequently, its cost of borrowing. Greece's debt is junk-rated, and a higher borrowing cost would further exacerbate its budget deficit.
With a higher budget deficit and higher cost of borrowing, Greece's economic woes will only be magnified. This would make it difficult for Greece to meet the conditions of the troika and stay in the European currency union. It could also have the potential to trigger another Eurozone debt crisis in the event that other economies follow its footsteps.
The immediate impact of Greece's political crisis is evident in the capital markets, which have become jittery since Antonis Samaras called for snap presidential elections.