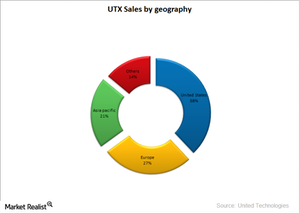 An introduction to United Technologies Corporation
By Ally Schmidt

Dec. 22 2014, Updated 9:28 a.m. ET
About United Technologies
United Technologies Corporation (UTX) is a business conglomerate that researches and develops technologies, systems, and services for the aerospace, construction, and security industries. The company's large and balanced portfolio of businesses spans geographies, markets, and customer relationships.
The company has a diverse product range of elevators, escalators, building automation, air conditioning and refrigeration systems, engines for large aircraft, fleet management services, various aerospace products, military and commercial helicopters, and much more.
The company's most popular products are its Otis elevators and escalators, Black Hawk helicopters, and PurePower engines for the popular CSeries jets by Bombardier. The company also provides continued after sales services that contributed to about 43% of its revenues in 2013.
In the past, United Technologies operated five major business segments:
Otis
UTC Climate, Controls & Security
Pratt & Whitney
UTC Aerospace Systems
Sikorsky
Recently, the company integrated the segments to form three business units:
UTC Building & Industrial Systems that combines Otis and UTC Climate, Controls & Security
UTC Propulsion & Aerospace Systems that brings together Pratt & Whitney and UTC Aerospace Systems
Sikorsky
Article continues below advertisement
UTX versus S&P 500
United Technologies has underperformed the S&P 500, which is represented by the SPDR S&P 500 ETF Trust (SPY). In the last year, S&P has returned 11% while UTX has returned only 5.5%. UTX's close rivals Lockheed Martin (LMT), Boeing (BA), and General Dynamics (GD) have returned 33.35%, -7.16%, and 51% in the same period.
In the next article we'll look at the company's business segments and its product lines.