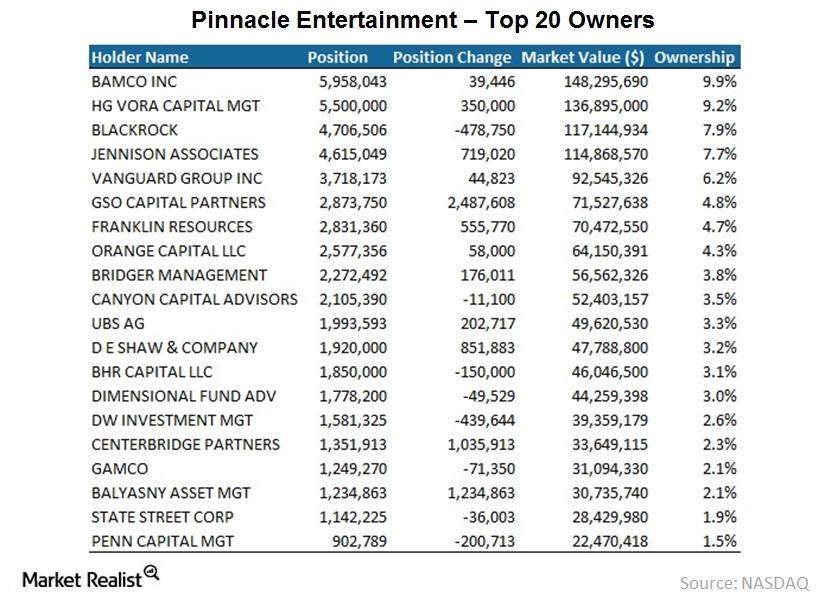 Institutional investors dominate at Pinnacle Entertainment
Dominating institutional investors
About 191 institutional investors dominate the ownership structure of Pinnacle Entertainment (PNK). These investors hold a combined total of roughly 69.3 million PNK shares.
PNK has approximately 59.2 million outstanding shares, with free float of 96.3% or 57 million shares. This means that the institutional investors hold around 122% of the float.
Article continues below advertisement
Institutional ownership exceeds free float
Pinnacle Entertainment's institutional investors control almost 100% of the company, and retail investors have short PNK shares. Institutional owners hold more than 100% of the free float shares, which are available to the public.
So, in addition to all of the available PNK shares, institutions have bought up all of the borrowed shares from short sellers who are betting that the stock will decline. This high level of institutional ownership is unsustainable and poses several disadvantages for retail investors.
Lack of insider control
Because institutional investors dominate PNK's ownership, insiders have less control over the companies that own the remaining 3.4% of PNK. PNK peers Boyd Gaming (BYD) and Isle of Capri Casinos (ISLE) have insider ownership of around 28.1% and 7.3%, respectively, while Penn National Gaming (PENN) has an insider stake of only 1.4%. ETFs like VanEck Vectors Gaming (BJK) can help investors to gain access to these casino companies.