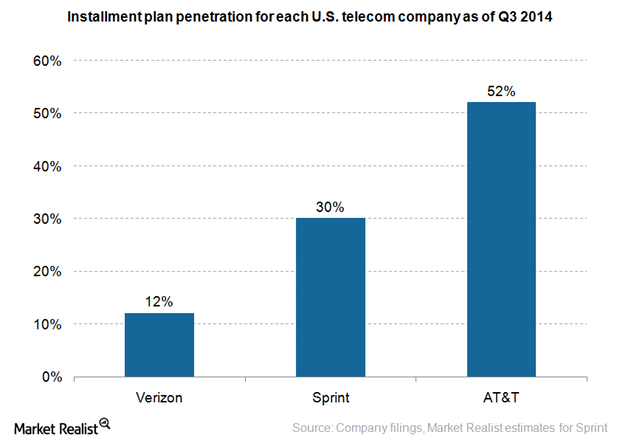 Telecom biz looks to boost installment plans
Installment plans are different from subsidy plans
Installment plans allow customers to pay for their devices in monthly installments over a certain period of time. With these plans, customers have the flexibility to upgrade their devices early. This is different from a subsidy plan, where a customer typically enters into a two-year contract with a telecom provider. For example, you can buy an Apple Inc. (AAPL) iPhone 6 for a subsidized starting price of $199 under a two-year contract.
Article continues below advertisement
Telecom companies trying to popularize installment plans
Verizon Communications Inc.'s (VZ) Edge plan, AT&T Inc.'s (T) NextNext model's more valuable to AT&T than the subsidy model plan, T-Mobile US, Inc.'s (TMUS) Jump plan, and Sprint's Easy Pay program are all examples of installment plans. In general, we're seeing a telecom shift from subsidy to installment plans because they're popular. And, these plans are beneficial to telecom companies as well. For example, the NextNext model's more valuable to AT&T than the subsidy model because it results in lower churn rates, longer customer life, greater customer lifetime revenue, and lower subsidy cost per upgrade.
This is the main reason why companies such as AT&T and Sprint Corporation (S) are trying to increase installment plan penetration. As the chart above shows, AT&T's installment plan penetration is 52%, and Sprint's is estimated to be 30%. T-Mobile doesn't report this metric, but it was the first company to start installment plans last year. Sprint has been trying hard to increase penetration, and plans to eventually eliminate subsidy plans by next year.
The installment plan penetration rate has increased steadily for most companies over the last few quarters. The exception is Verizon. Verizon's installment plan penetration rate is not only the lowest in the industry, it's also declining. We'll look at this more closely in the next part of this series.