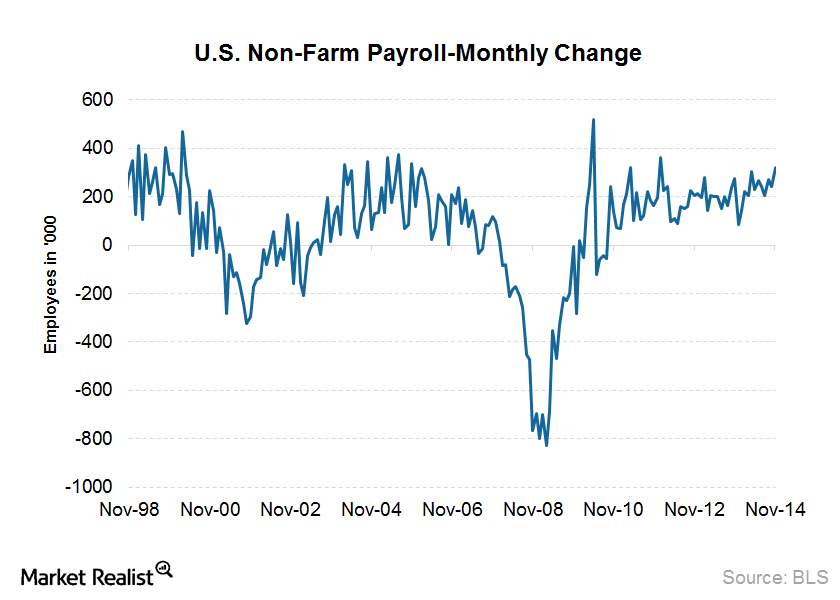 Improving U.S. labor conditions matters to gold investors
The importance of jobs data
The Fed assesses jobs data to determine whether the economy is strong enough to withstand higher interest rates. The Federal Reserve noted that a range of labor market indicators suggests that the underutilization of labor resources is gradually diminishing.
Let's analyze the major labor market indicators that investors should keep an eye on in order to form a view about the overall jobs market in the United States.
Article continues below advertisement
Unemployment rate at six-year low
Strong employment rates signal strong economic growth prospects. Recent U.S. labor market data have been quite positive. The unemployment rate has held steady at a six-year low of 5.8%. This is the lowest recorded value since July 2008. During the financial crisis, the unemployment rate peaked at 10%.
Strong NFP data
The nonfarm payroll (or NFP) shows the number of jobs added or lost each month. The NFP increased by a strong 321,000 in November compared to 243,000 in October. This number is against market expectations of 230,000. This is the largest monthly increase in almost three years.
Wage growth flat
Wage growth is another crucial job market indicator. In November, wage growth was at 2.1% year-over-year. It is little more than the 1.74% rate of inflation. Average hourly earnings rose by less than 0.2% in November.
The above numbers show improving labor market prospects. Improved U.S. jobs data have pulled forward market expectations for the Fed to start hiking interest rates toward mid-2015 from September 2015. It's important that you keep an eye on this information, as it offers a look at the future direction of gold prices and ultimately gold-backed exchange-traded funds (or ETFs) such as the Standard & Poors depositary receipt (or SPDR) Gold Shares (GLD). Other affected investments include Goldcorp Inc. (GG), Barrick Gold Corporation (ABX), Newmont Mining Corporation (NEM), and Yamana Gold Inc. (AUY), as well as ETFs that invest in the above stocks, such as the Gold Miners Index (GDX).