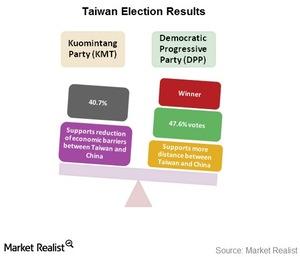 What are the implications of Taiwan-China unification?
By Surbhi Jain

Nov. 20 2020, Updated 12:51 p.m. ET
Current political scenario in Taiwan
Taiwan has recently been in the headlines due to local elections. Much of the buzz surrounded the fact that voters were turning out in droves to support the opposition Democratic Progressive Party (or DPP) as a sign of discontent with the current ruling Kuomintang Party (or KMT).
Taiwanese President Ma Ying-jeou heads the KMT. Ma has been in favor of taking steps to further reduce economic barriers between Taiwan and China and to propel them toward talks on political unification. However, this doesn't seem to be the popular opinion in Taiwan.
The opposition party in Taiwan, on the other hand, supported more distance between Taiwan and China. The DPP had gained popularity as it understood and expressed the concerns that many Taiwanese have over the implications of political unification of Taiwan with China.
Article continues below advertisement
Why Taiwan supports change of ruling party
The people of Taiwan fear that political unification with China could have grave consequences for their economy. They see the possibility of China flooding its labor market with low-cost labor, thus preventing any rise in wages in Taiwan. With the rising cost of living, the least Taiwan's population could expect is a compensatory rise in wages.
Moreover, Taiwan's interest is currently more tilted towards strengthening its ability to defend itself as it faces an aging military infrastructure.
KMT ousted by DPP
The voting results came out on November 29. The ruling KMT was ousted by the opposition DPP, which marked November 29 as another day of major political change on Taiwan's political calendar.
While the KMT was able to win only 6 of the 22 seats for city and county chiefs, the KMT seized 13 seats with a majority of 47.6% votes against KMT's 40.7%. Subsequently, the Taiwanese President Ma Ying-jeou, head of the KMT party, resigned as head of the party on December 2.
Political events of this stature have a direct impact on investments in the area. The iShares MSCI Taiwan (EWT), which tracks the performance of the Taiwanese equity market, shed 1.6% between November 28 and December 1.
Tensions between Taiwan and China also impact ETFs investing in the Chinese markets such as the iShares China Large-Cap ETF (FXI), the Deutsche X-trackers Harvest CSI 300 China A-Shares ETF (ASHR), the iShares MSCI China Index Fund (MCHI), and the iShares MSCI All Country Asia ex Japan Index Fund (AAXJ).
Get more insight into the implications of world events that impact your investments in developed, emerging, US, or European ETFs, on our Global Equity ETFs page.