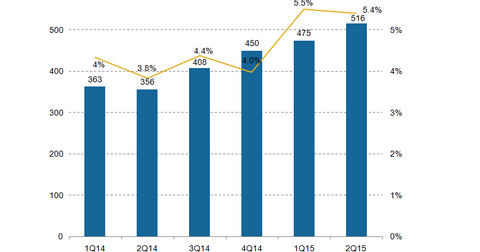 Why IaaS, PaaS, and SaaS are integral to Oracle's growth
By Anne Shields

Dec. 31 2014, Updated 5:03 p.m. ET
Cloud infrastructure lets Oracle post revenue growth
As mentioned earlier in this series, Oracle (ORCL) posted 3% revenue growth of $9.59 billion in 2Q15, due to growth in its Platform-as-a-service (or PaaS) and the Infrastructure-as-a-service (or IaaS) products. In 2Q15, total revenues from these products stood at $516 million, an increase of 45% on a year-over-year (or Y-o-Y) basis, as the chart shows.
If Oracle continues to grow revenues at this rate, then it offers robust hope that the company will be able to generate $1 billion by 2015. This segment is quickly becoming a crucial segment for the company, as its share in total revenues continues to grow rapidly.
Article continues below advertisement
Azure
According to Synergy Research, Microsoft's (MSFT) Azure led the cloud infrastructure space through its revenue growth. IBM (IBM) follows Microsoft in second place. Plus, Amazon's (AMZN) AWS and Google (GOOG) (GOOGL) posted a growth rate in excess of 45%.
Microsoft and IBM are pouring funds into all of their cloud services, strengthening their portfolio by adding open source options and widening hardware options beyond the expected x86 servers.
Oracle's cloud offerings growth rate matches industry
According to Synergy Research, the IaaS, PaaS, and other cloud infrastructure services are growing at about 50% every year. Oracle's 45% growth rate is close to the industry growth rate, suggesting that the company can take advantage of this growth opportunity. Synergy Research also notes that in 2Q14, the total revenue of all cloud infrastructure was ~$3.7 billion, a growth of 45% over 2Q13.
If Oracle is able to maintain and increase this growth rate, this segment has a strong chance of contributing more than ~10% to the company's total revenues, driving its growth forward. Oracle's PaaS and IaaS products received a strong response from the market and are expected to play a strong role in the company's future growth.