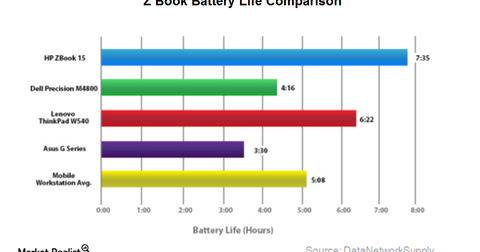 HP expands its commercial PC portfolio with Z Desktop and Z Book
By Anne Shields

Updated
Hewlett-Packard launches Z Desktop Workstations
In September 2014, Hewlett-Packard Company (HPQ) launched the Z Desktop and Z Book mobile workstations with upgraded processors, graphics cards, and memory configurations. With these launches, HP expanded its commercial PC portfolio.
The upgraded Z Desktop Workstations include HP Z420, Z620, and Z820. They have Intel Ivy Bridge Xeon E5-1600v2 and E5-2600v2 families of processors, new memory that runs 16% faster, and second generation Thunderbolt ports.
Article continues below advertisement
Thunderbolt claims to enable data transfer speed that's four times faster than USB 3.0. And, using new Intel Corporation (INTC) Ivy Bridge Xeon processors leads to enhanced performance. It provides a choice of extra cores, greater memory bandwidth, a larger cache, and higher frequencies—plus, options for dual processors.
Z Book Mobile Workstation launched
HP's mobile workstation business has been upgraded to include ZBook 17, ZBook 15, and ZBook 14.The company claims ZBook 17 is its most powerful and expandable workstation, while ZBook 15 is the most versatile. ZBook 14 is HP's smallest and lightest. The company claims it is "the world's first workstation ultrabook."
The above chart shows a comparison of HP ZBook 15's battery life and those of its peers. The upgraded Z mobile workstations can hold up to 32GB of memory, optional quad-core CPUs, and run on Microsoft Corporation (MSFT) Windows 8.1 or Linux. They have the same optional Thunderbolt connectivity and HP Z Turbo Drive PCIe SSD as the desktops. They can run Advanced Micro Devices, Inc.'s (AMD) Fire Pro, or NVIDIA Corp.'s (NVDA) Quadro graphics.
Workstations are aimed to cater to different industries
According to market intelligence firm IDC, in 2Q13, HP's respective market shares of the mobile workstation and desktop workstation category were 42.5% and 48.4%. The newly launched Z Desktop and Z Book mobile workstations are built to address the constraints of compute-intensive industries including media and entertainment, graphic design, and oil and gas exploration.