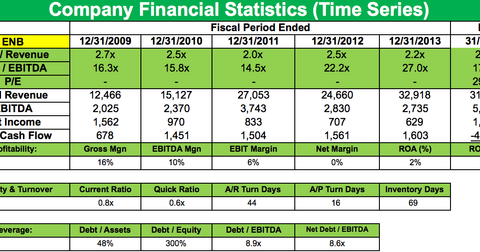 Highfields Capital opens new position in Michaels Companies Inc.
By Diana Key

Updated
Highfields Capital and Michaels Companies Inc.
Highfields Capital started new positions in Enbridge Inc. (ENB), Time Warner Inc. (TWX), and Michaels Companies Inc. (MIK). It sold positions in Broadcom Corp. (BRCM) and MetLife Inc. (MET). It increased its positions in Dollar Tree Inc. (DLTR) and Family Dollar Stores (FDO). It reduced its stake in Canadian Natural Resources (CNQ) and Eli Lilly & Co. (LLY).
Highfields Capital initiated a new position in MIK in the third quarter. The position accounts for 1.38% of the fund's 3Q14 portfolio.
Article continues below advertisement
Overview of MIK
Michaels Companies Inc. is the largest arts and crafts specialty retailer in North America—based on store count. It provides materials, project ideas, and education for creative activities. Its retail brands include Michaels and Aaron Brothers.
In June 2014, it completed an initial public offering, or IPO, on NASDAQ. It owns and operates a chain of specialty retail stores in 49 US states. It also has stores in Canada. Its stores feature arts, crafts, framing, floral, home decor, and seasonal merchandise. It also has do-it-yourself, or DIY, home decorating products.
As of November 1, 2014, the company owns 1,287 stores. It includes 1,166 Michaels and 121 Aaron Brothers stores. Michaels acquired Aaron's Brothers Holdings Inc. in 1995. It produces 11 private brands that are exclusively available at Michaels. It contributed 48% of the total revenue for fiscal year 2013.
Article continues below advertisement
Leveraged buyout
Two private equity firms—Bain Capital LLC and Blackstone Group LP—acquired Michaels in 2006. They acquired Michaels in a leveraged buyout transaction for $6 billion. Back then, the two firms held a combined 93% stake in Michaels. Highfields Capital Management held 6.2% stake. MIK's senior management acquired the remaining minority stake.
Reorganization at Michaels
In July 2013, the company reorganized its capital structure into a holding company. After the reorganization, the holding company issued debt of $783 million. The company paid $714 million in dividends to its sponsors—Bain and Blackstone. It paid $49 million to non-management equity holders.
Article continues below advertisement
IPO in June
Michaels issued 27.8 million shares in its IPO in June. The shares were sold at $17 per share. This was at the lower end of the expected range of $17–$19 per share. The IPO generated $472.6 million for the company. Michaels plans to use the proceeds from the IPO to repay part of its debt. Its debt was $3.7 billion as of May 3, 2014.
The company reported revenue of $1.1 billion in 3Q14. This was a 1.1% increase—compared to the same quarter last year. The operating income increased by 5.2%.
New initiatives
Digital social media and DIY trends in society are helping Michaels improve its potential customer base. Michaels is getting high traffic on its website by offering assorted products. It said it's "the only arts and crafts retailer named on Interbrand's list of Best Retail Brands in the United States, ranking 33rd in April 2014."
Launching its e-commerce platform in 2014 helped Michaels increase its customer base. It said that "Over the last 12 months, it has approximately 188 million visits to michaels.com; approximately 1.8 million Facebook followers, more than 395,000 Pinterest followers and over 134,000 Twitter followers."
The next part of this series will explore Highfields Capital's position change in BRCM.