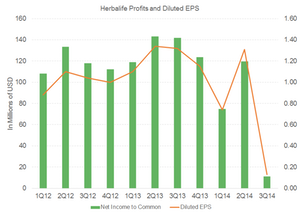 3Q14 profits hit by charge related to assets of Herbalife Venezuela
By Samantha Nielson

Updated
Profits down on Venezuela currency remeasurement
Herbalife (HLF) posted a third-quarter profit of $11.2 million, or $0.13 a share, a 90% drop from $142 million, or $1.32 a share, a year earlier. The net income included charges of $139.5 million, or $0.97 a share, related to the remeasurement of its Venezuela bolivar-denominated assets and liabilities. Adjusted EPS (earnings per share) rose 3% to $1.45 per diluted share compared to $1.41 per diluted share the prior year. However, it fell short of analysts' estimates of $1.51 per share.
Article continues below advertisement
In its letter to shareholders, Pershing Square Capital Management cited a research article in October that  "asserts that Herbalife has realized distorted growth and artificial profits in Venezuela in recent years as intercompany currency policies have created a mechanism for distributors to circumvent and arbitrage official local currency controls." The research stated that Herbalife was using an old SICAD I floating exchange rate of 10.7 bolivars against the US dollar.
Venezuela has four exchange rates. Three are official rates, while the fourth is a black market rate. The official rate is 6.3 bolivars to the US dollar used for essential goods such as medicine and food. In March, the Venezuelan government created a new currency exchange system called SICAD II.
Herbalife noted in its latest 10Q filing that as of September 30, 2014, its financial statements were remeasured at the SICAD II rate of 50.0 bolivars per US dollar, and it recognized $98.0 million in additional foreign exchange losses. It said it used the SICAD I exchange rate of 10.7 bolivars earlier due to accounting rules and "facts and circumstances."
Article continues below advertisement
Profits also impacted by expenses
Other items impacting 3Q14 profits were inventory write downs, legal and advisory services, and other expenses including those related to the Federal Trade Commission (or FTC) inquiry. During the quarter, Herbalife agreed to a $15-million settlement of a lawsuit by its former distributor Dana Bostick, who alleged the company's business model is a pyramid scheme.
Herbalife said in its 10Q filing, "The current operating environment in Venezuela also continues to be challenging for the company's Venezuela business, with high inflation, price controls, and the risk that the government will further devalue the Bolivar." Net sales for Herbalife Venezuela represented approximately 3% of its total net sales for the nine months ended September 30, 2014. Management said the company has taken steps to manage sales in Venezuela such as introducing new pricing and establishing order limits. There are also plans to shift manufacturing of key products to local sources.
Other MLM (multilevel marketing) peers who saw an impact from Venezuela currency issues were Nu Skin Enterprises, Inc. (NUS), Avon Products, Inc. (AVP), and Tupperware Brands Corporation (TUP). Herbalife's direct selling peers also include Usana Health Sciences, Inc. (USNA), Mannatech, Inc. (MTEX), and Amway.
The currency restatement also impacted guidance. The next part of this series will highlight Herbalife's outlook.