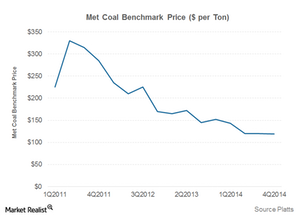 Greed led to a fall in met coal prices
By Mike Sonnenberg

Dec. 18 2014, Updated 9:19 a.m. ET
Background
In 2011, floods in Australia led to a rally in met coal prices. The benchmark was as high as $330 per ton. China's growth momentum was expected to continue for years to come. Global met coal producers increased their production capacities. They hoped for a met coal bull run. The coal industry (KOL) went through massive consolidation in 2011. For more details, read Understanding consolidation in the US coal industry.
Article continues below advertisement
Oversupply
After capacities expanded and the industry consolidated, the supply from Australia resumed. In contrast, demand didn't increase as expected. The market experienced an oversupply of seaborne met coal. Met coal prices started dwindling. However, met coal producers were quiet.
Since Australian producers hold a logistical advantage over the US producers, they didn't cut the supply. They expected the US producers to act first. The US producers paid a substantial amount for acquisitions. As a result, the US producers also waited. They were waiting for a better time to cut the supply in the future.
The result
Alpha Natural Resources (ANR) started to idle mines in February 2012. However, other producers waited longer. They were hoping for a turnaround. So far, 20–25 million tons of production cuts have been announced across the world. This was 8% of seaborne volumes.
ANR announced production cuts of 4–5 million tons. Walter Energy (WLT) idled its Canadian operations. The operations produced 1.7 million tons of met coal in 2013. Australian producers—like Glenore Plc (GLEN) and BHP Billiton (BHP)—are focused on cutting costs. They aren't focused on major production cuts. They will benefit when the market rebounds.
Despite announcements about production cuts, met coal benchmark prices remained low. The met coal benchmark prices were $119 per ton.
The global iron ore industry is even more concentrated. We'll discuss the global iron ore industry in the next part of this series.