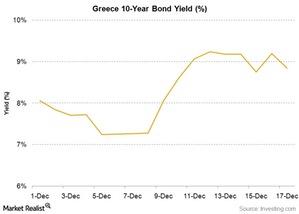 Political crisis in Greece impacts stock markets, investments
By Surbhi Jain

Updated
What are investors in Europe concerned about?
Investor concerns in Europe are centered on two main issues. First, the widening budget deficit in Greece would trigger political turmoil in the nation of the kind that had sparked the euro region's debt crisis.The fear of another Eurozone crisis has made investors wary. Investors have reduced confidence of the ruling party being reelected, with the opposition Syriza party gaining ground and leading the opinion polls.
Article continues below advertisement
Second, US investors invest in European equities through exchange-traded funds (or ETFs) like the Vanguard FTSE Europe ETF (VGK), the iShares MSCI EMU Index Fund (EZU), the SPDR DJ EURO STOXX 50 ETF (FEZ), and the iShares S&P Europe 350 Index Fund (IEV). With rising investor concern regarding Greece's political situation and its economic impact, these ETFs will be impacted.
Greece's political crisis makes markets jittery
Recently, capital markets in Greece and beyond have been jittery, and even more so since Antonis Samaras's December 9 announcement of the snap presidential elections. Samaras's decision triggered the worst stock market selloff in Greece in 27 years.
Markets have been reacting badly to Samaras's plan to end Greece's four-year 230 billion euro ($284 billion) bailout this month. He also resumed international borrowing without a safety buffer of credit from either the European Union or the International Monetary Fund.
Market reaction to Greece's snap elections
Reacting to the increased riskiness in the markets, equities plunged, while borrowing costs for Greece skyrocketed amid political uncertainty. By December 15, the Athens Stock Exchange crashed by 13%, the biggest one-day drop since the beginning of the Eurozone crisis. It has fallen by almost 20% in the last few days.
Meanwhile, yields on the Greek 10-year bonds breached the 9% mark on December 11, climbing the most since May 2012. On the same day, a bond selloff also pushed the yield on the three-year notes up more than 60 basis points in an hour. Consequently, the yield on three-year notes, issued in July as part of Greece's return to capital markets, surged above the longer-maturity rates, causing the yield curve to invert. An inverted yield curve reflects rising repayment risk in the near term due to uncertain economic conditions.
To learn more about Greece and other emerging nations of Europe, read our Market Realist series, Overview: A guide to investing in the PIIGS nations.