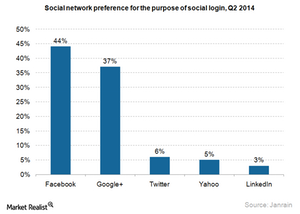 Google's trying to understand its users' shopping habits
By Puneet Sikka

Updated
Google will gain an understanding of users' shopping habits
In Part 5 of this series, we discussed how Google's (GOOG)(GOOGL) planning to add a "buy" button to its e-commerce ads. This move will help Google increase the conversion rates of its ads. But there's another way Google will benefit from this strategy.
This move will also help Google know how ads convert to actual sales by examining users' shopping habits. Google will gain access to this precious data, including users' credit card numbers and other details. Google can then show these users relevant and targeted ads, which will help it monetize these ads better.
Article continues below advertisement
Most Internet companies try to capture as much user data as possible
The trend of Internet companies trying to capture as much user data as possible is catching on. Facebook (FB) has recently developed an ad server tool, Atlas, to help advertisers achieve better returns on investments by providing relevant ads to users. Read Why Facebook looks to Atlas to measure mobile ads for more details. Similarly, Twitter (TWTR) has also been trying to monetize its logged-out users through targeted ads.
These social networks capture users' behavior and interests, as they know the real identities of the people through social logins, where users are asked sign in on a website through a social network. Social logins also help users avoid the need to remember user IDs and passwords for each website.
According to a report from Janrain and as the chart above shows, Facebook and Google+ are the top two social networks preferred by users for social logins, with market shares of 44% and 37%, respectively. Twitter, Yahoo (YHOO), and LinkedIn (LNKD) are some of the smaller players in this market.
However, the company most affected by this trend should be Amazon (AMZN). This is because Amazon was reportedly planning to develop its own software to place ads online. Through this tool, Amazon would leverage its users' shopping behavior on its site to serve them relevant ads. We discussed this in an article titled Why Amazon and Facebook are trying to cut Google's ad business. However, Google's plans to let users conduct transactions on its own platform will hurt Amazon.