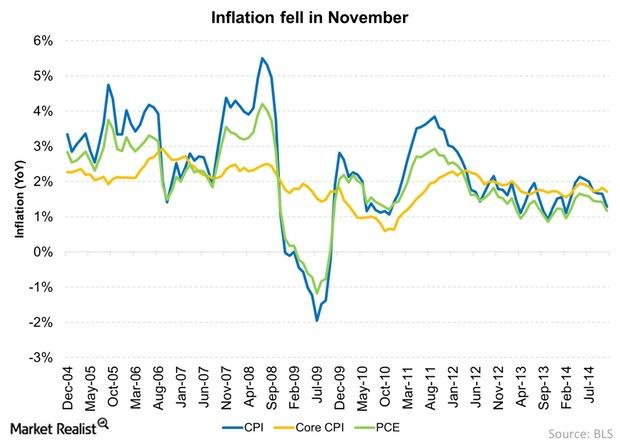 Your Best Bets For A Good Inflation Hedge Right Now
By Russ Koesterich, CFA

Nov. 20 2020, Updated 3:39 p.m. ET
Q: Do you still favor physical real estate and broad exposure to commodity-producing countries as tools to combat rising inflation?
A: As I mentioned in a recent post, I'm not worried about inflation in the near term. That said, yes, I still like both inflation hedge options. But between the two, I currently prefer brick-and-mortar real estate exposure. Real estate prices are still relatively low and, unlike commodities, real estate can provide income.
Article continues below advertisement
Market Realist – You should invest in an inflation hedge now—despite low inflation
The graph above shows year-over-year inflation rates based on the CPI (consumer price index), the core CPI, and the PCE (personal consumption expenditure) for the last ten years. The core CPI excludes items like food and energy (XLE), which tend to be volatile.
The latest figures show that inflation has dipped. According to the CPI, the inflation rate is 1.3%—compared to the 1.2% according to the PCE. However, according to the core CPI, inflation is 1.7%. This is mainly because oil (USO) prices have dipped considerably. Since the core CPI excludes oil prices, core inflation has remained constant, unlike CPI and PCE, which include oil.
As inflation is way below the Fed's long-term target, the Fed can afford to keep interest rates lower for a little longer.
Although inflation remains low, it's a good idea to have a small inflation hedge in your portfolio. A small inflation hedge adds diversification benefits to a portfolio.
Commodity-driven countries—like Russia (RSX) and Brazil (EWZ)—are reeling due to low commodity prices. Physical real estate (VNQ) appears attractive as an inflation hedge (because it provides rent income) versus commodities, which involve storage costs.
Read our series Key indicators to watch closely for direction on gold prices to learn where gold could be heading.