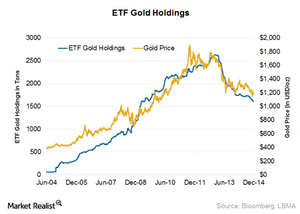 Why gold ETF holdings are dwindling
Monitoring ETF holdings
Outflows from exchange-traded funds (or ETFs) led to an approximate 28% fall in gold prices in 2013, selling a combined 881 tons of gold. As a result, it's important for investors to monitor changes in ETF holdings.
ETFs are very large holders of physical gold, making it especially important to watch out for any sustained buying or selling trend of gold-backed ETFs.
Article continues below advertisement
Current ETF holdings
There are 14 current gold ETF holdings. These include the largest gold-backed ETF Standard & Poors depositary receipt (or SPDR) Gold Shares (GLD). Overall gold holdings in ETFs were 1,611 tons as of December 4, 2014, which is its lowest value in five years. May 2009 saw a similar level. There has been an outflow of 32 tons of gold in the last 30 days. Since August, there has been an outflow of 121 tons.
Recent outflows suggest that investors might be moving into other risky assets such as equities since U.S. economic prospects have started to look up.