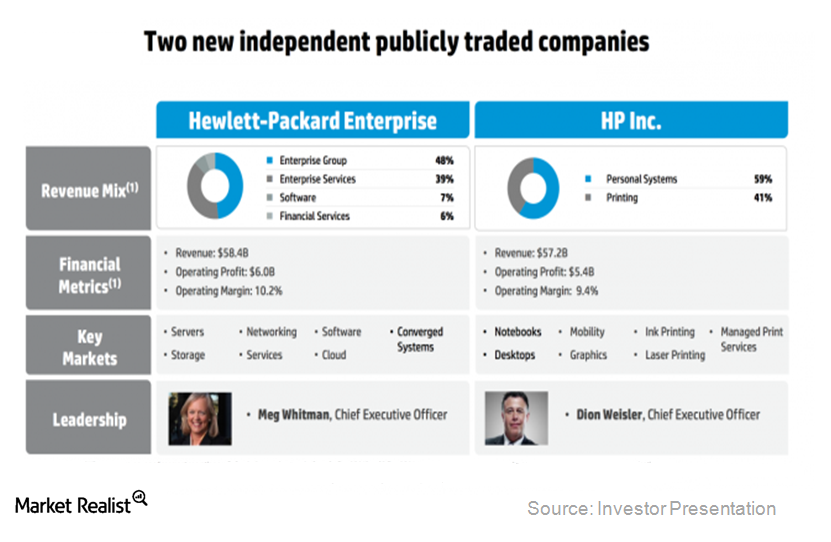 What does the future hold for Hewlett-Packard after the split?
By Anne Shields

Dec. 4 2020, Updated 10:53 a.m. ET
Split will cause disproportionate access to end markets
HP's (HPQ) split into HP Inc. and HP Enterprise will finalize by November of 2015. HP Enterprise will encompass storage, servers, networking, converged systems, software, and cloud technologies. HP Inc. on the other hand will have commoditized PC and printer offerings.
After the split, both the companies will start on almost equal base in terms of revenue under different leaders. However, the basic difference is the end markets and demand for each companies' offerings. By looking at the product portfolio of both the companies, as the below presentation shows, we can see that HP Enterprise will have access to rapid growth areas.
Article continues below advertisement
The company's most talked about new style of IT rests on three pillars: cloud, big data, or software and security. Amazon Web Services (AMZN), Google (GOOG) (GOOGL), and Microsoft (MSFT) have a dominant presence in public cloud services. HP (HPQ) Helion and IBM (IBM) Smartcloud, with their million-dollar investment in cloud, are expanding their reach across cloud computing space.
Industry analysts are of the view that PC would continue to be the prime choice for business users and corporate customers. Thus, unlike HP Enterprise, HP Inc. is facing low growth and margin areas. To read in detail about company's split, please read Why HP spins off to form two new companies.
HP continues its focus on rapid growth areas
Through strategic acquisitions like Eucalyptus and new launches in cloud, servers, 3D printing, and big data, HP continues to focus on these rapidly growing areas. HP hasn't shown any significant growth in revenues, yet. However, its bottom line and cash flows are improving as we saw in 3Q14 earnings too. Its new offerings are gaining traction. However, the company hasn't produced results yet.
1Q15 expectations
For 1Q15, HP expects its non-generally accepted accounting principles (or GAAP) earnings for 1Q15 and full-year 2015 to be in the range of 89 cents to 93 cents per share and $3.83 to $4.03 per share, respectively. For 1Q15, HP expects momentum in its Personal Systems segment. It also expects its commercial PC segment to grow as the Microsoft (MSFT) XP refresh is likely to be completed.