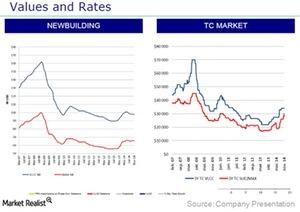 Frontline comments on global shipping industry
By Katie Dale

Updated
Global industry, vessel earnings
The third quarter of 2014 does not provide a rosy picture for the global vessel industry. However, Frontline Ltd.'s (FRO) management states that the company recorded better vessel earnings compared to the second quarter. It further added that improved fleet utilization was driven by an increased travel distance mainly driven by crude moving from the Atlantic Basin to China. This benefited the industry (SEA) and companies such as Frontline (FRO), Teekay Tanker Ltd. (TNK), Nordic American Tanker Ltd. (NAT), Tsakos Energy Navigation Ltd. (TNP), and Navios Maritime Acquisition Corporation (NNA).
According to the International Energy Agency (or IEA), global oil demand in the third quarter of 2014 increased by 1.6 million barrels per day compared to the previous quarter.
Article continues below advertisement
VLCC and Suezmax fleets
Currently, there are about 635 vessels in the very large crude carriers (or VLCCs) fleet with four vessels delivered in the quarter and two vessels sold for scrap. The third quarter has made a very marginal difference to fleet development, making it fairly balanced.
For 2015, almost 30 VLCC ships are expected to be delivered. In 2016, the company estimates the delivery of 45 ships. Scrapping over the next two years is expected to be around 25. However, an increase is expected due to the increasing costs of third and fourth special surveys. These steps are part of a five-yearly drydock special survey that shipping companies take.
The current Suezmax fleet stands at 456, with one Suezmax delivery in the third quarter and two sold for scrap. For 2015, the fleet growth is very limited with nine vessels scheduled to be delivered and at least six expected to be sold for scrap. In 2016, the company expects the number to be about 20 new vessels against about 10 to be sold for scrap.
Values and rates
Compared to the previous quarter, Frontlline's prices are stable. Prices depend on the specific yard and the final specification. Frontline currently estimates the standard VLCC vessel value to be priced from $96 million to $97 million and the Suezmax to be priced from $65 million to $67 million. This is in line with the company's second-quarter estimates.
The strengthening US dollar will apply downward pressure on this, but it could get absorbed by forward optimism. The time charter market for VLCCs currently stands at around $35,000 for three years, while the Suezmax is around $30,000 per day. This is compared to low to mid $30,000 for VLCC and $25,000 per day for Suexmax forecast in the second quarter of 2014.