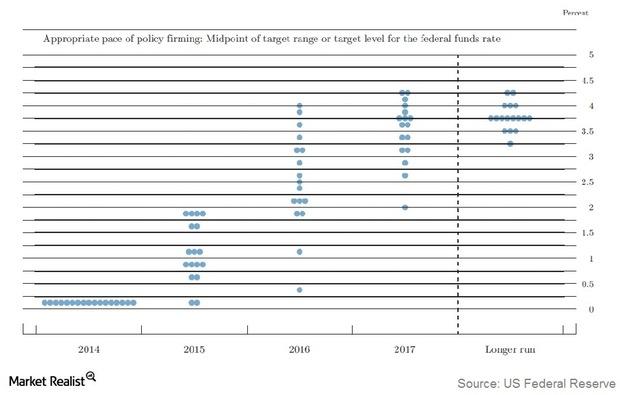 What did the Fed's Summary of Economic Projections say?
By David Ashworth

Dec. 22 2014, Updated 3:37 p.m. ET
The SEP
The Fed holds eight meetings in a calendar year. It releases a SEP (Summary of Economic Projections) at four of the meetings. It includes projections for change in real economic growth, the unemployment rate, and PCE (personal consumption expenditures) inflation. These projections are based on the FOMC (Federal Open Market Committee) participants' individual assessments of appropriate monetary policy. The recent meeting was associated with a SEP.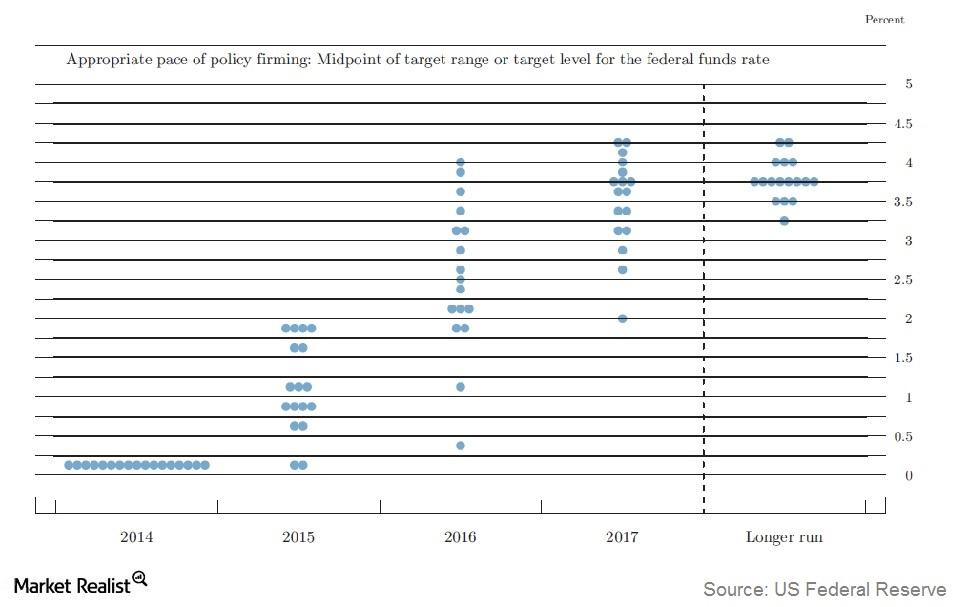 Article continues below advertisement
Economic growth
The FOMC increased the range for its expectation of a change in real GDP this year. It increased the range from the 1.8%–2.3% projected in September to 2.3%–2.5%. The range of gross domestic product, or GDP, growth expectations for 2015 and beyond were similar to the September projections.
The central tendency excludes the three highest and three lowest projection values. It also saw an improvement for 2014. It increased from the 2%–2.2% projected in September to 2.3%–2.4%.
Unemployment
The projected range of unemployment for 2014 changed from the 5.7%–6.1% in September to 5.7%–5.8%. The range increased due to improvement in the labor market. For 2015, the range improved from the 5.2%–5.7% projected in September to 5%–5.5%.
Article continues below advertisement
PCE inflation
For 2015, the range for the inflation rate decreased. The expected rage reduced from 1.5%–2.4% to 1%–2.2%. The range decrease because of reduced oil prices.
The dot plot
The dot plot represents the interest rate's future direction—according to FOMC participants.
For 2015, two participants thought that there shouldn't be a change in interest rates. The other 15 participants gave their target level for the federal funds rate for the year. Six of the participants wanted the Fed to target a level of over 1.5%, but below 2%. Four of the participants wanted the target to be below 1%, but higher than 0.75%.
The dot plot is important for investors in equity (SPY)(IVV) and bond ETFs (TLT)(SHY)(IEF). It displays the FOMC participants' views. Their views eventually shape the monetary policy. Their views affect these investments.