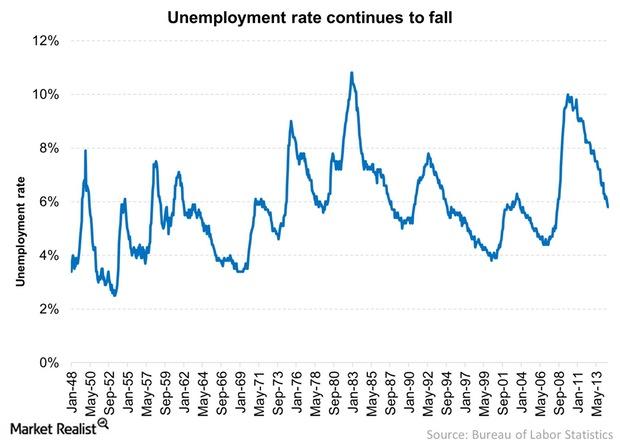 The Fed Delayed The Rate Hike—Despite The Lower Unemployment Rate
By Russ Koesterich, CFA

Dec. 8 2014, Published 1:32 p.m. ET
Russ explains why the labor market will likely continue to frustrate the Fed and gives two implications for investors.
The Federal Reserve's (the Fed) decision to delay rate hike was heavily influenced by the still tepid nature of the labor market. At first glance, this statement seems at odds with the recent improvement in a number of employment statistics, particularly the unemployment rate.
Market Realist – Despite the lower unemployment rate, the Fed delayed the US rate hike.
The graph above shows the historical unemployment rate in the US. The unemployment rate increased to 10% at the peak of the Great Recession. The rate breached 10% for the first time since 1982. This was when the US endured another deep recession.
The unemployment rate has been decreasing since then. Now, it stands at a reasonable 5.8%. This is much better than other developed markets (EFA)—particularly Europe (EZU). In Europe, the unemployment rate is over 11%.
Article continues below advertisement
Keeping interest rates low supports growth. It also supports the labor market. However, if interest rates are kept low for long enough, inflation and growth could increase. Price stability and growth are the Fed's main objectives. Inflation is curbed by hiking rates. This could also decrease growth. However, inflation remained at bay. This prompted the Fed to keep the rates the same.
A rise in interest rates could cause bonds, including Treasuries (TLT)(IEF), to underperform.
The Fed's decision was based on certain structural issues within the job market. The issues don't affect the unemployment rate. In the next parts of this series, we'll discuss the issues more.
The slowdown in the global economy (QWLD) could have caused the Fed to postpone the rate hike.