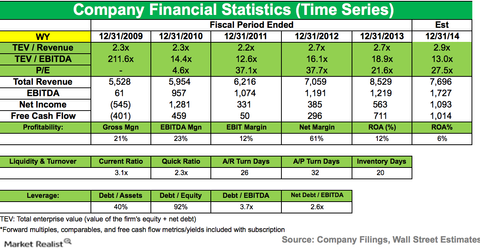 Farallon Capital sells stake in Weyerhaeuser Co.
By Diana Key

Updated
Weyerhaeuser Co. position
Farallon Capital Management sold its position in Weyerhaeuser Co. (WY) during the third quarter. The stock accounted for 1.16% of the fund's total 2Q14 portfolio.
Article continues below advertisement
Overview of WY
Weyerhaeuser is a leading forest products company that grows, harvests, and sells trees. It produces forest products that are essential to everyday life. The company owns about seven million acres of timberland in the US and manages about 14 million acres under long-term government licenses in Canada.
Weyerhaeuser has the following business segments:
Timberlands
Wood Products
Cellulose Fibers
Weyerhaeuser's divestment
In July, developer TRI Pointe Homes Inc. (TPH) bought WY's home building business, Weyerhaeuser Real Estate Company, in a $2.7-billion transaction. WY retired 59 million shares. It also received $700 million in cash and $2 billion in TPH stock.
Weyerhaeuser's shareholders hold 80.5% of the combined company on a fully diluted basis, while TPH's shareholders hold the remaining stake. TPH said, "The combined unit will create a market-leading home builder with substantial opportunities for long-term growth."

Article continues below advertisement
3Q14 results
Weyerhaeuser reported revenue from continuing operations of $1.9 billion compared to $1.9 billion for the same period last year. Net earnings totaled $1.15 billion or $2.15 per diluted share compared to $157 million or $0.27 per diluted share in 3Q13.
Third-quarter revenues included earnings of $966 million from discontinued operations related to the divestiture and $9 million from special items. Excluding these, the company reported net earnings of $178 million. This compares with net earnings from continuing operations before special items of $136 million for 3Q13 and $234 million for 2Q14.
Here are some additional details on WY's third-quarter results by segment:
Net sales for Timberlands declined 33% sequentially to $364 million. "Seasonally softer domestic market conditions and reduced Chinese demand for Western logs" primarily drove this decline.
Wood Products sales declined 29% sequentially to $1.04 billion.
Cellulose Fibers sales grew by 13% sequentially to $503 million due to increased sales volume.
Article continues below advertisement
Share repurchase and dividend
During the quarter, WY repurchased $130 million of common shares. As a result of divestment and share repurchase, the company reduced its outstanding share count by 10%. WY increased its quarterly dividend by 32% to $0.29 per share.
Farallon's other third-quarter positions
In 3Q14, Farallon Capital Management started new positions in Time Warner Inc. (TWX), Tim Hortons Inc. (THI), International Game Technology (IGT), and Cognizant Technology Solutions (CTSH). The fund increased its positions in DIRECTV (DTV), Covidien plc (COV), Allergan Inc. (AGN), and Shire plc (SHPG). Positions sold by Farallon during the third quarter include Yahoo! Inc. (YHOO) and Oracle Corp. (ORCL).