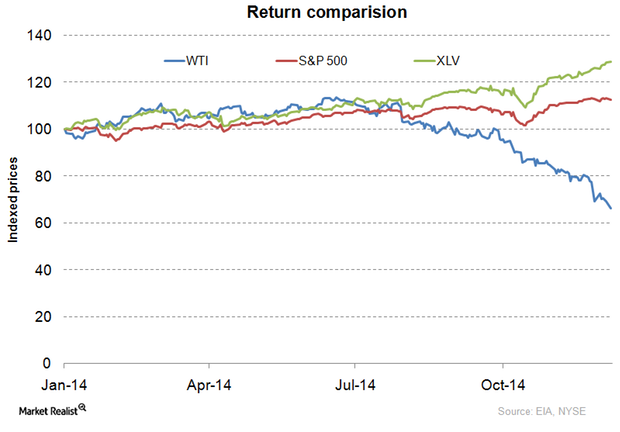 What do falling oil prices mean for the hospital industry?
By Margaret Patrick

Nov. 20 2020, Updated 2:18 p.m. ET
Oil prices
The economic environment of the last quarter of 2014 has been dominated by declining oil prices. With OPEC[1. The Organization of the Petroleum Exporting Countries] refusing to reduce production and the surplus North American shale oil reserves, supply has exceeded demand. Global demand is also increasing slowly as economies in China, India, Japan, and Western Europe continue to appear weak. As a consequence, oil prices have reduced within the last six months of 2014, from $106 per barrel in July to $63 per barrel in December. For more information on the fall of crude oil prices, please see Crude Oil Prices Fall To a 5-Year Low.
Article continues below advertisement
Performance comparison
The above graph compares the performance of West Texas Intermediate (or WTI) spot prices, S&P 500 index, and the Healthcare Select Sector SPDR ETF (XLV). The broader stock index has outperformed the oil markets, as investors shifted their investments from energy- and manufacturing-related stocks to better-performing industries such as healthcare, education, and  retail. The Healthcare Select Sector SPDR has consistently outperformed oil and the broader market. As economic conditions affect the healthcare industry with a lag, the current market shock with oil prices is expected to reflect in future years. This makes the hospital industry a good investment option.
Pharmaceutical products
Oil derivatives such as petrochemicals and plastics form an important constituent of pharmaceutical drugs and medical devices. As the cost of raw material decreases, major hospital operators such as HCA Holdings (HCA), Universal Health Services (UHS), Community Health Systems (CYH), and Tenet Healthcare (THC) can negotiate for better pricing in medical supplies. These cost savings will further boost the hospital industry.