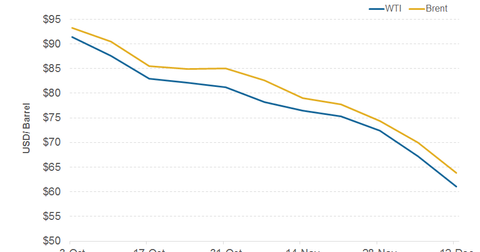 What do falling oil prices mean for coal producers?
By Mike Sonnenberg

Updated
Falling oil prices
Oil prices are decreasing. Until July 2014, oil prices were hovering over $100 per barrel. However, increased global oil production and less demand caused oil prices to decrease. Also, in their meeting on November 27, OPEC (Organization of the Petroleum Exporting Countries) countries decided not to cut production. The oil war caused Brent prices to fall below $64 per barrel. WTI (West Texas Intermediate) prices fell to ~$61 per barrel as of December 12.
Article continues below advertisement
Production wasn't affected
Even though oil prices are falling, producers haven't seen less production. Production cuts result in lower supply. If demand is stable, this leads to a higher price. As a result, producers avoid being the first one to cut production. They want to benefit from someone else's decision to cut production. This is a perfect case of prisoner's dilemma. However, some oil rigs may be moved to produce natural gas if the low oil prices continue.
Mixed impact on coal producers
The decrease in oil prices had a mixed impact on coal producers (KOL). If oil rigs are deployed to drill natural gas wells, natural gas production might pick up. This would put natural gas prices under pressure. It's important to note that oil wells also produce some natural gas.
As we've already seen, low natural gas prices are negative for coal producers—like Alpha Natural Resources (ANR), Arch Coal (ACI), Peabody Energy (BTU), and Natural Resource Partners (NRP). However, if oil production drops because of low prices, it could make some rail cars available for coal shipments. Also, the fuel costs decreased for running mining equipment.
Coal and natural gas are competing fuels in electricity generation. As a result, their fortunes also depend on electricity output in the country.