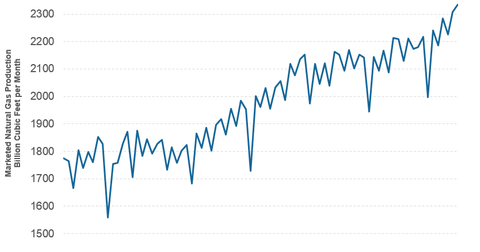 What factors will affect natural gas prices this winter?
By Keisha Bandz

Updated
Long-term production trends
The US Energy Information Administration's (or EIA) December short-term energy outlook (or STEO) projects a 5.5% year-over-year (or YoY) increase in total marketed natural gas production in 2014.
The EIA projects that total marketed natural gas production will grow another 3.1% in 2015.
Article continues below advertisement
Short-term production trends
The EIA reported that as of September, the most recent month for which EIA data is available, dry natural gas production was 4.6 bcf/d (billion cubic feet per day) higher than it was last September at 71.8 bcf/d.
According to the STEO, production usually declines in September, due to seasonal maintenance. However, this year, September production increased compared to August due to booming natural gas production.
Shale plays drive production growth
Shale plays have driven an increase in natural gas production in the last few years. Production from shale plays averaged 36.4 bcf/d April through September. This is an increase of 15% compared to last year.
The Marcellus Shale has been a key contributor to the increase in natural gas production. Production in the Marcellus grew by nearly one third on average this year, according to the EIA.
Article continues below advertisement
Factors that will influence natural gas prices
However, despite record high production levels, inventories at the end of November were still 6% lower than last year's inventory levels, and 10% lower than the five-year average  between 2009 and 2013, according to the STEO.
This data suggests that prices might spike if this winter is anything like the previous one. However, EIA forecasts that residential and commercial demand will be lower on account of milder temperature forecasts and higher forecasted natural gas prices. Thus EIA projects that the end‐of‐March 2015 inventories will total 1,431 bcf.
Therefore, it remains to be seen which opposing force will influence natural gas prices more. Investors will watch both of these crucial indicators to determine the natural gas price outlook.
Strong prices are positive for gas-producing companies' margins like Southwest Energy (SWN), Cabot Oil and Gas (COG), Chesapeake Energy (CHK), and EOG Resources (EOG). Since most of these companies are part of the Energy Select Sector SPDR ETF (XLE), the energy price outlook will likely affect the ETF as well.