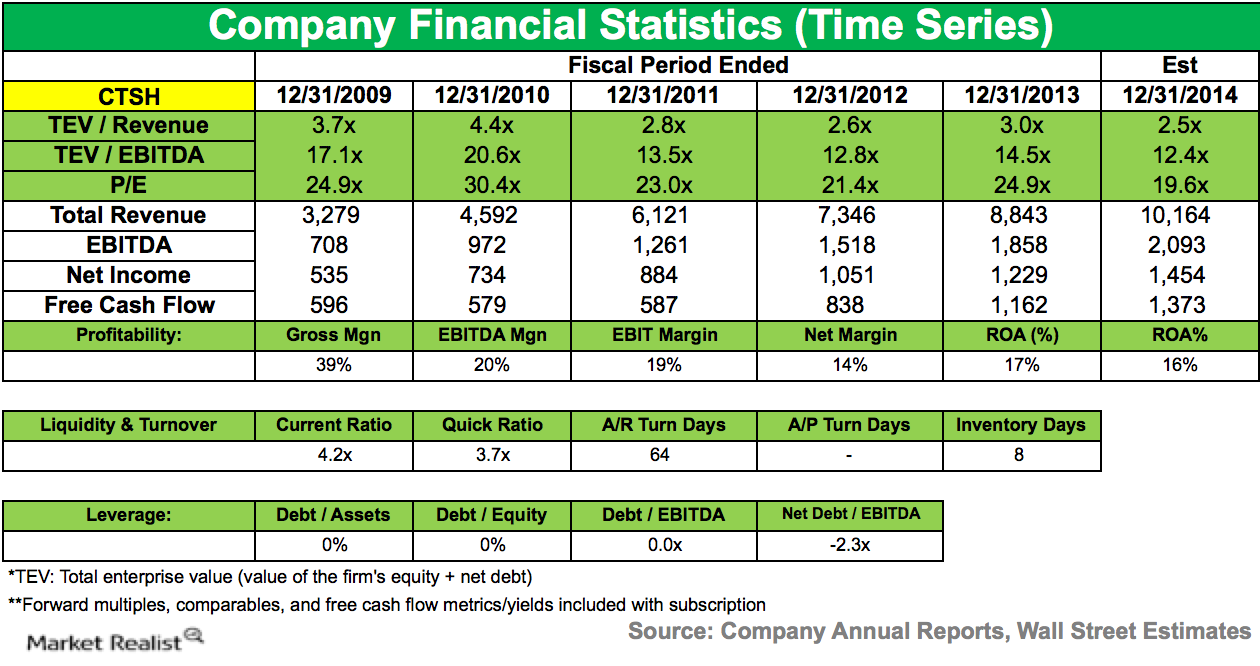 Eminence Capital starts position in Cognizant Tech Solutions
By Diana Key

Dec. 29 2014, Updated 1:44 p.m. ET
Eminence Capital's new position in Cognizant
Eminence Capital started a position in Cognizant Technology Solutions (CTSH) during 3Q14. The position accounts for 1.13% of the fund's 3Q14 portfolio.
Article continues below advertisement
About Cognizant
CTSH is a leading provider of information technology, consulting, and business process services. Its clients include some of the world's most prominent companies.
3Q14 results
CTSH reported third quarter revenue of $2.58 billion. It was up 2.5% sequentially and 11.9% year-over-year, or YoY. Net profit was $355.6 million. It was down 4.3% sequentially and up 11.3% YoY. Demand from North America drove this growth. It contributed 77% to total revenue.
North America reported 2.7% sequential growth. In the United Kingdom, revenue was up by 4.4%. In the rest of Europe, revenue declined by 2.6%.
Article continues below advertisement
Healthcare sector involvement
CTSH is investing in healthcare services. It provides end-to-end solutions to its healthcare clients.
The company entered into a seven-year master services agreement with Health Net, Inc. (HNT). CTSH said, "Transformative engagement with Health Net is of the largest contract value in the history of the company."
On November 20, 2014, CTSH acquired TriZetto Corp. for $2.7 billion in an all-cash deal to expand into the area of healthcare industry software. TriZetto's software manages the health benefits of ~50% of the insured population in the US. It supports ~25% of all US healthcare providers. CTSH said, "The deal will bring in additional revenue of about $1.5 billion in the next five years." Together, the two companies will serve nearly 245,000 healthcare providers.
On October 17, 2014, CTSH announced its purchase of Cadient Group. Cadient is an online ad agency. It's focused on the pharmaceutical, biotechnology, consumer health, and medical device industries. CTSH said that the acquisition would expand the scope of digital marketing capabilities for its clients.
Article continues below advertisement
Acquisition of Odecee
Recently, CTSH also bought Odecee. It's a digital solutions company in Australia. CTSH said that this strategic acquisition will help bolster the company's presence in Australia. It will strengthen its digital capabilities.
Revenue forecast lifted
CTSH revised its full-year revenue guidance. For 2014, the company expects revenues to be $10.13–$10.16 billion.
Eminence Capital's other 3Q14 positions
During 3Q14, Eminence Capital also initiated new positions in GNC Holdings (GNC), Apple (AAPL), McDonald's (MCD), and Zimmer Holdings Inc. (ZMH). It raised positions in TIBCO Software Inc. (TIBX) and CBS Outdoor Americas Inc. (CBSO). It sold its position in Ralph Lauren (RL). It decreased positions in National Oilwell Varco (NOV), Dollar General (DG), Cadence Design Systems, Inc. (CDNS), Kar Auction Services, Inc. (KAR), and VCA Antech, Inc. (WOOF).
The next part of this series will explore Eminence Capital's position change in ZMH.