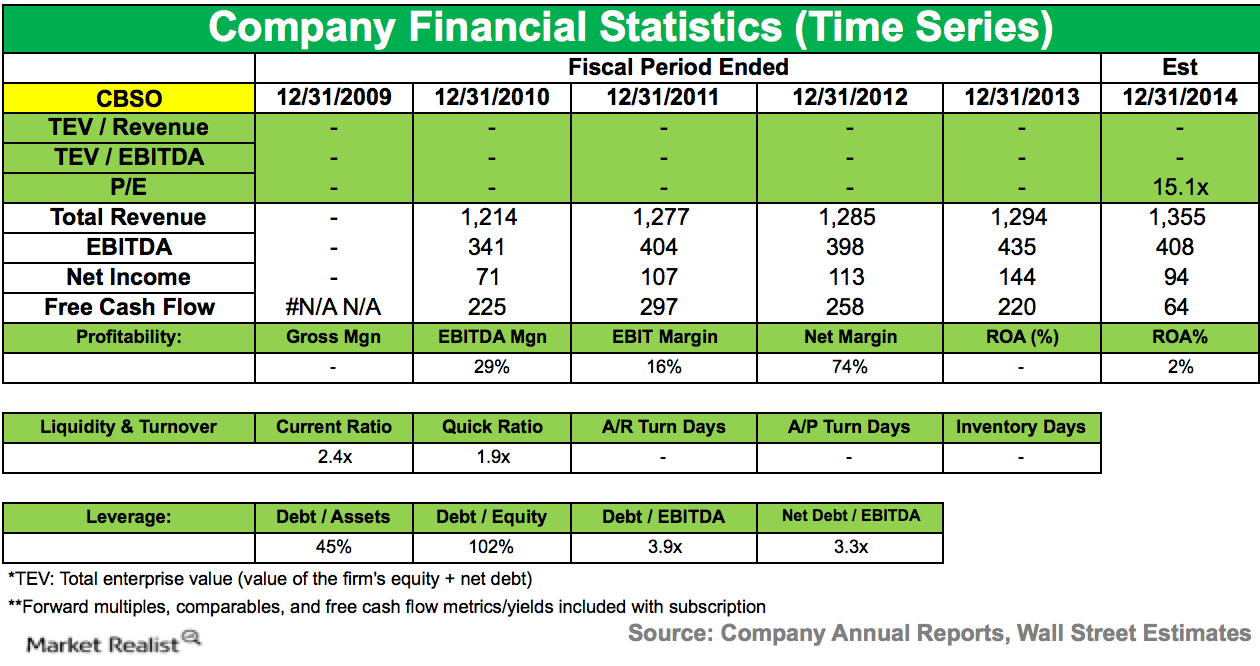 Eminence Capital raises position in CBS Outdoor Americas Inc.
By Diana Key

Dec. 30 2014, Updated 9:43 a.m. ET
Eminence Capital and CBS Outdoor Americas Inc.
Eminence Capital increased its position in CBS Outdoor Americas (CBSO) during 3Q14. The stock accounts for 1.66% of the total portfolio—up from 0.43% of the fund's 2Q14 portfolio.
Article continues below advertisement
CBSO was rebranded 
On November 20, CBSO was rebranded to OUTFRONT Media, Inc. (OUT). A release said the new identity "represents a new era for the company and for its position within the growing out-of-home advertising sector. The brand also symbolizes the company's unique portfolio of billboards and displays in the most desired locations, including landmark positions in high-traffic areas, retail districts, transit hubs and iconic destinations."
OUT is the largest provider of advertising space on out-of-home advertising structures and sites across the US, Canada, and Latin America. For 3Q14, its largest categories of advertisers were television, retail, and professional services. They represented 10%, 9%, and 7% of its total US revenues, respectively.
Article continues below advertisement
OUT signs contract with MARTA
On December 5, OUT signed a contract with the MARTA (Metropolitan Atlanta Rapid Transit Authority). The MARTA is one of the nation's largest public transportation systems. The new agreement has a five-year initial term that can be extended for up to two more years. It's expected to be effective on January 1, 2015.
CBSO spun out of CBS earlier this year
CBS spun off its OUT billboard business at the end of March through an IPO (initial public offering). CBSO sold 23 million shares, or 19% of its stock, for $28 per share in the IPO. It raised $615 million.
CBS also received a favorable private-letter ruling from the IRS (Internal Revenue Service) over the conversion of CBSO into a REIT. In July, CBSO said it started operating as a REIT for the tax year beginning on July 17, 2014, and ending on December 31, 2014.
CBS also disposed of its remaining 81% stake in CBSO through a tax-free split-off in July. Under that transaction, CBS exchanged its 97 million shares of OUT's common stock for 44.7 million shares of CBS Corp. Class B common stock. This transaction resulted in a gain of $1.56 billion.
Article continues below advertisement
Growth through acquisitions
In July, CBSO agreed to acquire certain outdoor advertising businesses from Van Wagner Communications, LLC for $690 million in cash. Under this deal, CBSO will acquire ~1,100 large-format billboard displays in 11 top US markets. Earlier, CBSO signed an agreement with Windsor Outdoor to acquire more than 35 billboard structures with over 70 display faces in Chicago and the surrounding metropolitan area.
Softer market conditions lead to flat revenue
CBSO's 3Q14 revenue fell 0.5% to $336.5 million. It said billboard revenues were flat at $237.2 million. Improvement in local sales and digital billboard revenues was offset by softer market conditions in national advertising and lower billboard yields.
International revenue fell 3.6%. The decline was mainly due to foreign currency exchange. Profit increased to $248.3 million, or $2.06 a share—from $37.2 million, or $0.31, due to a tax benefit in connection to the REIT conversion. Funds from operations were $292.6 million. This was an increase of $212.3 million, or 264.4%, due to the tax benefit.
Eminence Capital's other 3Q14 positions
During 3Q14, Eminence Capital also initiated new positions in GNC Holdings (GNC), Apple (AAPL), McDonald's (MCD), Cognizant Technology Solutions (CTSH), and Zimmer Holdings Inc. (ZMH). It raised its position in TIBCO Software Inc. (TIBX). It sold its position in Ralph Lauren (RL). It decreased positions in National Oilwell Varco (NOV), Dollar General (DG), Cadence Design Systems, Inc. (CDNS), Kar Auction Services, Inc. (KAR), and VCA Antech, Inc. (WOOF).
The next part of this series will explore Eminence Capital's position change in RL.