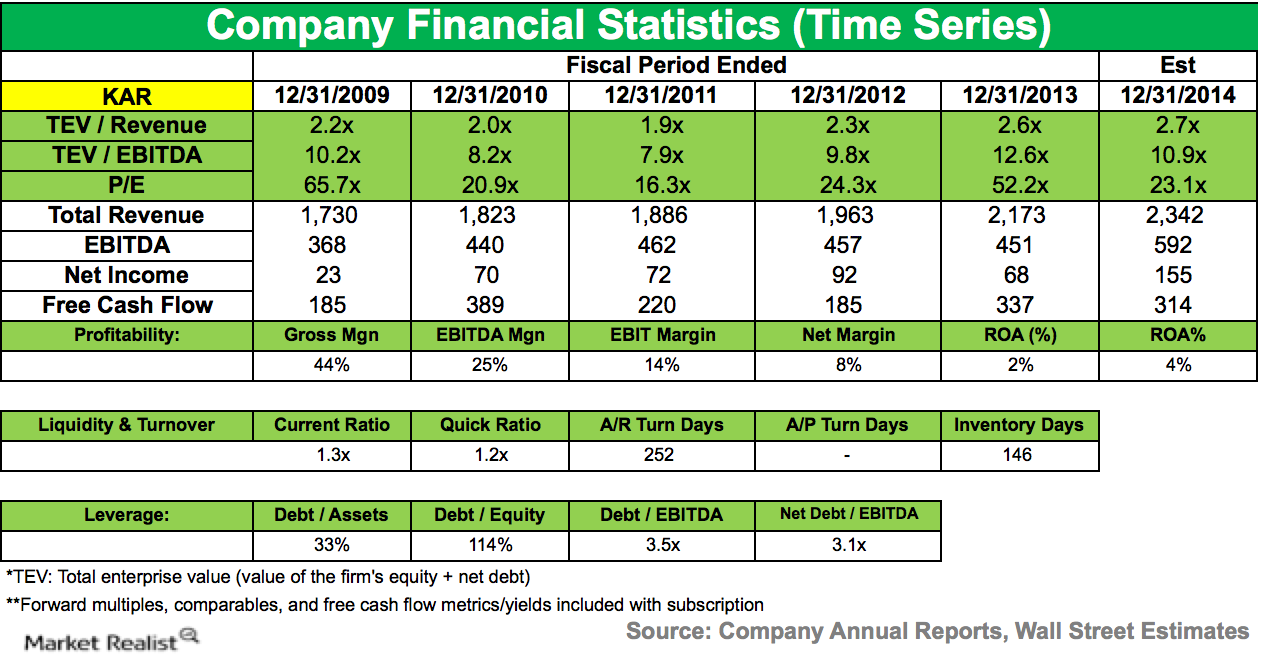 Eminence Capital lowers stake in Kar Auction Services Inc.
By Diana Key

Dec. 31 2014, Updated 9:43 a.m. ET
Eminence Capital and Kar Auction Services Inc.
Eminence Capital lowered its position in Kar Auction Services (KAR) during 3Q14. The stock accounts for 1.57% of the total portfolio—down from 2.88% of the fund's 2Q14 portfolio.
Article continues below advertisement
About Kar Auction Services
KAR provides whole car and salvage auction services in North America. Its core business includes:
ADESA, KAR's whole car auction services business, is the second largest provider of used vehicle auction services in North America.
IAA (Insurance Auto Auctions) is KAR's salvage auction services business. It's one of the two largest providers of salvage auction services in North America.
AFC (Automotive Finance Corporation) is a capital funding source. It provides inventory financing and comprehensive business services mainly to independent used-vehicle dealers.
3Q14 results with share repurchase program
KAR reported revenue of $589.1 million—up 10% year-over-year, or YoY. Adjusted EBITDA (earnings before interest, tax, depreciation, and amortization) increased 14% YoY to $149.1 million. Net income increased 108% YoY to $47.5 million, or $0.33 per diluted share. Adjusted net income per diluted share increased 38% to $0.40—compared to $0.29 in 3Q13.
The board of directors authorized a share repurchase program up to $300 million of shares. Also, it declared a cash dividend of $0.27 per share.
Article continues below advertisement
2014 outlook
KAR continues to expect adjusted EBITDA of $580–$600 million. It expects net income per share of $1.05–$1.15. It expects adjusted net income per share of $1.45–$1.55.
ADESA acquires 50% stake in TradeRev 
On August 6, ADESA acquired a 50% stake in TradeRev for $30 million in cash. At TradeRev, dealers can launch and participate in real-time vehicle auctions at any time from their mobile devices or desktop. This transaction would assist in expanding ADESA's footprint in the dealer-to-dealer online space in the US and Canadian markets.
Article continues below advertisement
KAR's initiatives
ADESA launched two free apps for iPhone users—LiveBlock and Marketplace. These apps will help customers make better buying decisions. IAA launched a mobile Vehicle Assignment feature to offer customers "anywhere" access.
IAA expanded its Omaha facility by adding ~11 acres. It will provide access to increased inventory and greater conveniences to buyers and sellers.
Eminence Capital's other 3Q14 positions
During 3Q14, Eminence Capital also initiated new positions in GNC Holdings (GNC), Apple (AAPL), McDonald's (MCD), Cognizant Technology Solutions (CTSH), and Zimmer Holdings Inc. (ZMH). It raised positions in TIBCO Software Inc. (TIBX) and CBS Outdoor Americas Inc. (CBSO). It sold its position in Ralph Lauren (RL). It decreased positions in National Oilwell Varco (NOV), Dollar General (DG), Cadence Design Systems, Inc. (CDNS), and VCA Antech, Inc. (WOOF).
The next part of this series will explore Eminence Capital's position change in WOOF.